News
From the Vault: Jose Iturbi at the Robin Hood Dell and Mann Music Center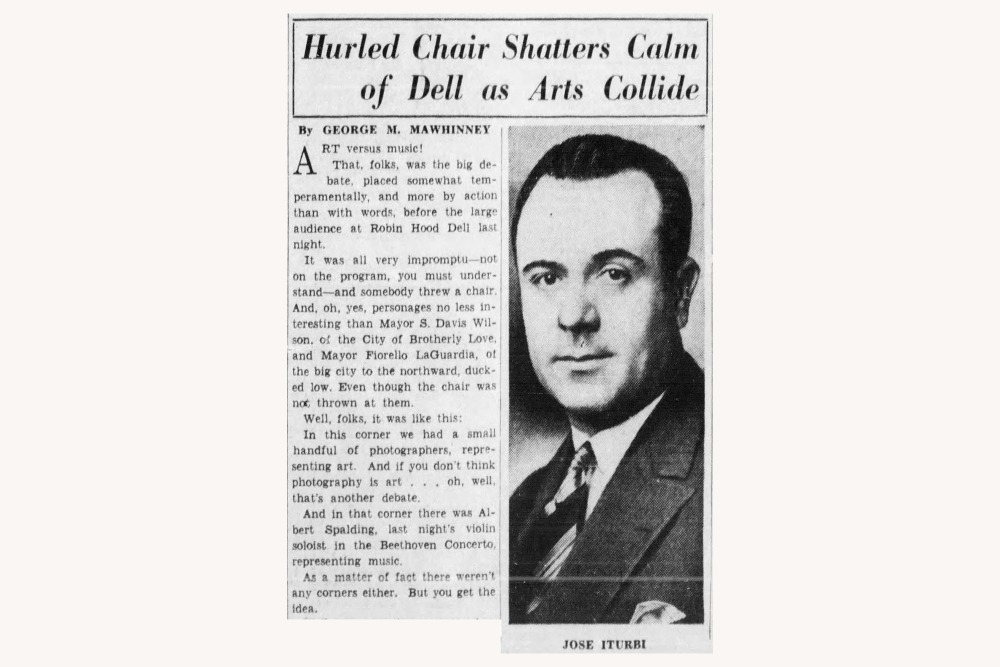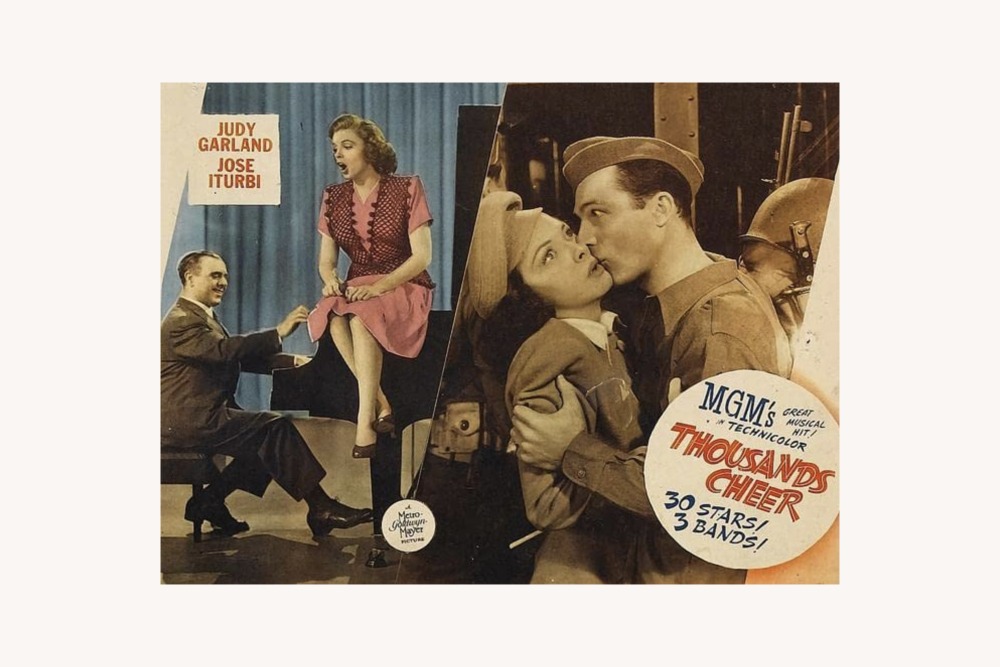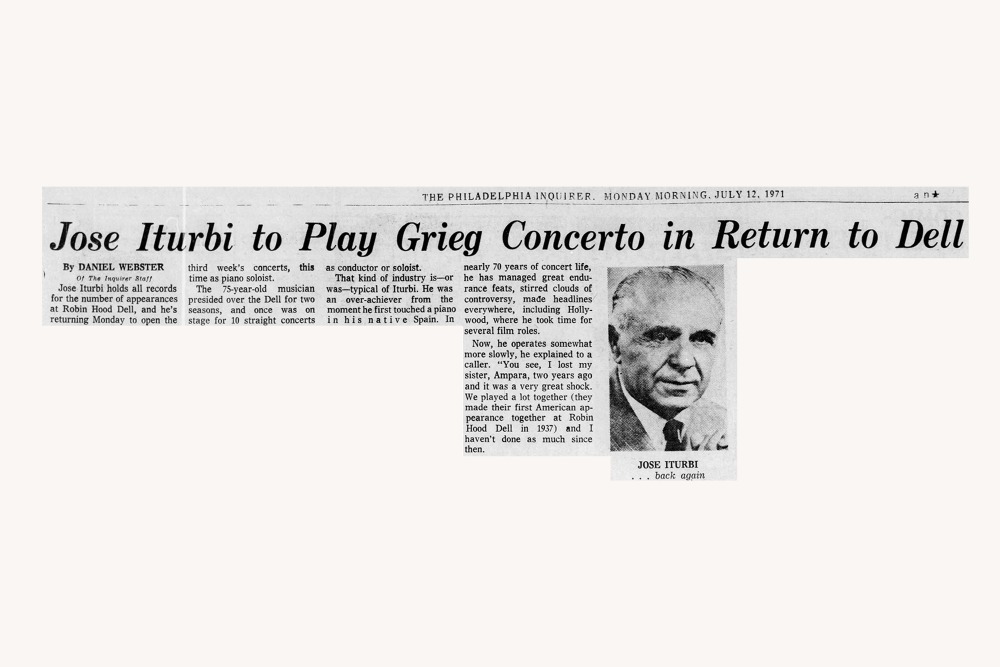 MANN MUSIC ROOM: VAULT
Blog Entry by Jack McCarthy, Historian, The Mann Center for the Performing Arts
The Mann Center traces its history to the Robin Hood Dell, which opened in 1930 in East Fairmount Park as a summer home for The Philadelphia Orchestra. In 1976 the organization moved to a new venue in West Fairmount Park. Originally called Robin Hood Dell West, it was later renamed the Mann Music Center in honor of its longtime director and benefactor Frederic Mann, and subsequently renamed the Mann Center for the Performing Arts.
---

When the new Robin Hood Dell West opened in June 1976, one of the early guest artists was the colorful Spanish pianist-conductor Jose Iturbi, whose history with the organization extended back four decades, to the early years of the original Robin Hood Dell. A world-renowned concert and recording artist, a popular film star in his prime, and a notoriously mercurial personality (several of his outbursts at the Dell made national headlines), Iturbi was a frequent featured artist at the Dell in the 1930s and served as its musical director for the 1936 and 1937 seasons. He was eighty years old when he returned in 1976 to perform at the new Dell West with The Philadelphia Orchestra, the ensemble with which he made his US debut almost half a century earlier.  
Born in Valencia, Spain in 1895, Jose Iturbi was a child prodigy who began playing piano professionally at age seven. In his teens he studied at the Valencia Conservatory and the Paris Conservatoire and from 1919 to 1923 he was head of the piano department at Geneva University. He concertized extensively as a pianist in Europe and South America in the 1910s and 1920s and made his US debut with Leopold Stokowski and The Philadelphia Orchestra at the Academy of Music on October 1, 1929, to great critical acclaim. A few years later Iturbi began what soon became a very successful conducting career. He was a regular guest conductor with The Philadelphia Orchestra in the mid-1930s, both in regular season concerts at the Academy of Music and during the summer at the Robin Hood Dell. He was reputed to have been under consideration as a possible successor to Leopold Stokowski when the latter announced his resignation from The Philadelphia Orchestra in 1936, but the position went to Eugene Ormandy.  
Jose Iturbi made his Robin Hood Dell debut on July 18, 1934—as conductor, not pianist—leading the Orchestra in Ludwig von Beethoven's Egmont Overture and Fifth Symphony and symphonic works by two modern Spanish composers: Eduardo López-Chavarri and Manuel De Falla (Iturbi often championed works by fellow Spaniards). "His compelling combination of authority and eloquence found instant and emphatic favor with the audience," wrote the Philadelphia Inquirer music critic, "making a most auspicious inaugural for his engagement as guest conductor in the summer symphony season." Iturbi was such a frequent and popular performer at the Dell in the mid-1930s that he was appointed musical director of the venue for the 1936 and 1937 seasons. It was at the Dell during this period that Iturbi and his sister Amparo, also a concert pianist, gave their US debut as a piano duo. They had performed together often in Europe, but their first duo performance in America was at the Robin Hood Dell on June 28, 1937. 
It was also during this period that Philadelphia audiences got to witness the famous Iturbi temper firsthand. On August 19, 1936, he was conducting a concert featuring violinist Albert Spalding when photographers and audience members began making a commotion over two prominent attendees: S. Davis Wilson and Fiorello La Guardia, mayors of Philadelphia and New York City, respectively. Both Spalding and Iturbi left the stage due to the disturbance and a furious Iturbi reportedly threw a chair from the wings onto the stage. The tantrum was reported in the papers and Iturbi apologized the next day, describing the episode as a "misunderstanding." The following year he made national headlines when he abruptly stopped a nationwide live radio broadcast of a Dell concert he was conducting due to a disagreement with management over inclusion of popular songs on the program. 
Iturbi made national headlines yet again four years later when he was scheduled to conduct a concert at the Dell in July 1941 featuring jazz clarinetist and bandleader Benny Goodman, then at the height of his fame. Iturbi refused to appear with Goodman, stating that "[Goodman] is a jazz-band leader. It would be beneath my dignity to conduct for him." Dell management engaged another conductor for the concert and, the negative publicity notwithstanding, Iturbi led other concerts at the Dell later that summer, to great audience approval. Iturbi actually liked jazz very much, but thought that jazz and classical music should not be mixed in concert.  
By this time, Iturbi was appearing much less frequently in Philadelphia, as Hollywood had come calling. He moved to California in 1939 and starred in a number of movies throughout the 1940s, always playing himself. His recording career also took off at this time, and he became one of the nation's highest selling classical recording artists. When word leaked out that Iturbi had played the piano parts (but did not appear onscreen) in the 1945 movie A Song to Remember, a heavily fictionalized biography of Frederic Chopin, his recording of Chopin's "Polonaise in A-flat" went gold. So did his recording of Claude Debussy's "Clair de Lune." He took up flying in the late 1930s, becoming a licensed pilot and flying his own airplane to concert engagements. True to his personality, he also liked fast cars and motorcycles. 
Iturbi ended his film career in the late 1940s and returned to concertizing. He appeared at the Dell a number of times from the late 1940s to early 1970s—sometimes as pianist, sometimes as conductor, sometimes as both. When he appeared as pianist in 1971, it was touted in the newspapers as his eighty-fourth concert at the Robin Hood Dell, the most by any artist in the venue's history. 
Iturbi's final appearance in Philadelphia was his first and only concert at the new Robin Hood Dell West on June 28, 1976, the eighth concert in the recently opened venue. He was featured in the triple role of conductor, pianist, and composer. (Two weeks later, Leonard Bernstein would appear at the Dell West in the same triple role.) At the concert, Iturbi led The Philadelphia Orchestra in Wolfgang Amadeus Mozart's Piano Concerto in D minor and Felix Mendelssohn's Piano Concerto in G minor, both of which he conducted from the piano as soloist, along with "Three Dances" from Manuel De Falla's ballet the Three-Cornered Hat, and his own composition, "Seguidillas." While not prolific or celebrated as a composer, Iturbi wrote and recorded several orchestral and piano pieces in the Spanish style over the years.
The June 1976 concert was part of what turned out to be Jose Iturbi's final concert tour in 1976-1977. He died in June 1980 in Los Angeles at the age of eighty-four.