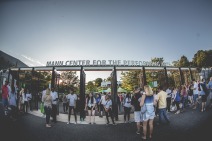 Full Time Positions
Director of Individual Giving and Membership
JOB SUMMARY: The Director of Individual Giving and Membership manages all aspects of the Mann's major, annual, and membership giving programs in order to meet budget goals.  In working with the Executive Vice President, the Director provides strategic support to all fundraising efforts for major donors and manages all annual giving from individual donors and prospects.  
JOB DUTIES & RESPONSIBILITIES:
Individual/Major Giving 
Develop, plan, and execute solicitations calendar to achieve department individual giving budget goal;
Create strategic goals and initiatives to ensure a significant base of unrestricted annual membership support to successfully meet annual fund projections;
Develop and manage the portfolio of high-level prospects capable of making gifts of $5,000+ to the institution;
Manage all membership solicitations including face-to-face visits, direct mail, email, digital, and other communications platforms; 
Assist the Executive Vice President on campaign management:  update and manage pipeline reports, maintain cabinet meeting notes, assist in production of campaign materials; 
Provide a "pipeline" of major donor prospects to President and CEO, and Executive Vice President for the current capital campaign;
Provide support for the fundraising efforts of the Executive Vice President, with particular attention to the Mann's ongoing capital campaign;
Work with the Vice President of Business Development on cultivation and solicitation of multi-channel donors; 
Attend lunches, dinners, or other events in order to develop and strengthen relationships;
Conduct research on individuals, foundations, and other organizations for use in cultivation and solicitation;
Identify prospective new donors through ticket-buyer lists, networking, and special events; 
Prepare requests, proposals, and reports for major donor prospects;
Preserve and expand current membership base of support, with specific emphasis on donors at $1,000+;
Develop and coordinate membership and annual fund cultivation and stewardship for events.
Membership
Provide an engaging donor/member experience at the highest level; 
Attend and be a visible presence at Mann concerts, donor events, receptions, and special events such as the annual golf tournament and annual gala; 
Manage and oversee membership staff.
Other
Working together with the Manager of Special Events, plan a prospect cultivation event and a major donor recognition event annually;
Provide meeting support materials as requested by the Executive VP;
In collaboration with the Executive VP, develop a strategy and supporting materials for a new planned giving program.  Strategies may include, but not be limited to:  the development of a new brochure, newsletter, website content, social media, and events;
Identify, cultivate, and when appropriate, solicit planned gifts;
Develop and design special materials, email blasts, and other correspondence targeted, as appropriate, to major gift prospects and donors;
Work closely with the Manager of Development Operations on tracking and reporting gifts, database management, and overseeing support staff;
Provide forecasted budget revenue and expenses related to the individual giving program;
Participate in Development meetings and as a key member of the department.
REQUIREMENTS:
Minimum Bachelor's degree; Master's Degree preferred
5-7 years of experience in fundraising, customer service, or marketing, preferably in the performing arts;
Excellent interpersonal skills and ability to work as a team;
Ability to follow instructions, prioritize duties, and multitask;
Ability to work with a diverse group of individuals;
Customer service mindset – willing to go above and beyond for our members;
Excellent organizational skills and attention to detail;
Excellent telephone, writing, and personal communication skills;
Knowledge of Microsoft Word, Excel, and Outlook;
Experience with Archtics, Raiser's Edge or other fundraising database software;
Must have a reliable form of transportation.
TO APPLY: Please submit your cover letter and resume to Nancy Newman, Executive Vice President at nnewman@manncenter.org with "Director of Individual Giving and Membership" in the subject line. No phone calls, please. Hiring is contingent on the completion of a background check.
The Mann is an at-will employer.  It is the policy of the Mann to provide equal employment in all aspects of the employer-employee relationship.  All conditions and privileges of employment are administered to all employees without discrimination or discriminatory harassment because of race, color, religion, national origin, sex, age, disability, veteran status, pregnancy status, citizenship, marital status, sexual orientation, gender identity, or any other characteristics protected by law.
Digital Marketing Manager
JOB SUMMARY: This position is responsible for the management, coordination, and execution of the Mann's digital marketing strategy, content, and analytics—encompassing but not limited to: social media, manncenter.org, e-mail marketing, online advertising, and ticketing processes. The Digital Marketing Manager will steer the website and its extensions to ensure a coherent presence across all media channels and to increase awareness and revenues for the Mann Center for the Performing Arts. This position works very closely with all departments to further the institutional goals and brand of the Mann. The ideal candidate possesses a strong understanding of both traditional and web marketing technology and, advertising, and knows how to use electronic media and graphical design to enhance the Mann's objectives. Strong writing and organizational skills, non-profit and performing arts knowledge, and digital marketing expertise are necessary for this role. This position reports directly to the Vice President of Audience Development and Integrated Marketing.
JOB DUTIES & RESPONSIBILITIES:
Manage, update, and create content on manncenter.org and Mann Center mobile app, including event-related and facility information; develop new pages on the Mann's website on Drupal 8; obtain or generate all appropriate artwork, written copy, and approvals; maintain quality assurance and strong attention to detail. 
Develop and execute social media content across the Mann's social channels; create content calendars for organic social efforts; work with Education and Development departments to generate content to meet departmental goals.
Design, draft and edit emails on behalf of the Mann Center using tmMessenger (similar to MailChimp), while collaborating with departmental managers and stakeholders from Marketing, Programming, Development, Education, Operations and other departments.
Execute paid media across social channels and Google Ads for Mann Presents concerts.
Design and manage digital signage and digital collateral required for performances and departmental needs; create social media graphics and resize admats and artwork using Photoshop.
Community Management: monitor the Mann's digital channels for patron comments related to Customer Experience, Facilities, Programming, etc. and liaise with the appropriate departments to determine best responses or actions. 
Encourage online audience engagement and promotions; innovate new institutional engagement tactics, both traditional and digital; develop and oversee digital promotions related to performances.
Identify and advise on emergent technology trends; make recommendations on new features and applications relevant to the Mann's long-term goals and marketing strategies; continue to grow existing digital and social channels.  
Manage and coordinate digital marketing vendor relationships, account maintenance, and invoice tracking. 
Collaborate with other members of the marketing team to build event-specific marketing plans for email campaigns, online ad buying (video and display), paid/promoted social and media buying, and Google Ads; contribute to event marketing settlements.
Provide regular reporting on digital marketing performance, highlighting relevant trends including open/click-through rates, web traffic, and conversions/revenue generated. 
Utilize CRM to pull patron data reports; analyze buyer trends; formulate segmentation and targeting strategies.
Manage timelines and deliverables for digital content across numerous departments.
Work closely with the Mann's public relations firm to track and log (digital and print) all press mentions and clippings. 
Collaborate with web developers on website maintenance and updates, including design and content. 
Assist on-site at performances with digital updates, press, photography, and other marketing related needs as the on-call person from the Marketing Department. 
Data management for digital assets such as event photographs, logos, and marketing artwork.
REQUIREMENTS:
2-3 years of relevant experience with digital marketing experience required. 
Adobe Creative Suite, MS Office, Basic HTML, and CSS skills required 
Strong understanding of current online marketing concepts, social media and digital advertising strategy, and best practices.
Comfort with Drupal content management system and Google analytics. 
Eye for detail, excelling in organizing and prioritizing; schedule-driven and results-focused. 
Must exhibit a collaborative spirit and ability to manage multiple concurrent projects.
Exceptional writing & communication skills 
Knowledge of Archtics or similar CRM a plus
Experience with major non-profit cultural institution(s) and familiarity with the competitive Philadelphia performance arts, a plus.
Ability to provide transportation to the office and venue as needed. 
Ability to work 40+ hours per week, including nights and weekends during the Mann's season. This is an exempt position.
 
TO APPLY:  Please submit your cover letter and resume with "Digital Marketing Manager" in the subject line to Kelly Schempp at kschempp@manncenter.org. Resumes submitted without salary requirements will be eliminated. No phone calls, please.
It is the policy of the Mann Center for the Performing Arts to provide equal employment in all aspects of the employer-employee relationship. All conditions and privileges of employment are administered to all employees without discrimination or discriminatory harassment because of race, color, religion, national origin, sex, age, disability, veteran status, pregnancy status, citizenship, marital status, sexual orientation, gender identity or any other characteristic protected by law. The Mann is an "at-will" employer. The normal work location is in Center City Philadelphia, but travel to the theater (5201 Parkside Ave. Philadelphia, PA) is also required. Travel to and from the theater is considered commuting; commuting expenses are not reimbursed by the Mann. 
Best Beverage Catering at the Mann Center for the Performing Arts, Philadelphia's premier event venue, is seeking a seasoned Catering Sales Manager to join our dynamic management team. The position is based out of Philadelphia and partners with the Mann sales team to offer customized event catering services.
This position will work closely with the Mann on further developing onsite catering during concerts, like the Donor Terrace and Crescendo Buffets, as well as taking initiative for new opportunities with booked external events. Additionally, the ideal candidate will be able to create a catering brand to break into the Philadelphia scene. This will entail developing an overall concept, including a name, logo, and packages with competitive themes and pricing comparable to the local market.
We are looking for an energetic and experienced person to join our team now!
JOB DUTIES & RESPONSIBILITIES:
Develop and manage incoming catering event inquiries, working with the Director of Event Sales and our Executive Chef to create customized catering services
Maintain and grow existing accounts while generating new opportunities within them
Encourage and support repeat clientele
Be professional, personable, flexible, and accommodating
Perform customer service analyses, develop solutions, create proposals, and negotiate with clients
Produce accurate and timely monthly reporting as required by management
Develop and work with venue to meet or exceed quarterly sales goals
Participate in product and sales related meetings and trainings
Maintain relationship between clients and venue
Oversee execution of all catering events, including nights and weekend events
Expand and develop catering operations team
Keep current on product knowledge and the Philadelphia-area catering and culinary trends
Attend industry events to create and build relationships within the Philadelphia area
QUALIFICATIONS:
Minimum of 5 years high-end catering sales experience
Minimum of 3 years culinary experience preferred
Detailed product knowledge of produce, proteins and dairy is required
Proven track record of closing opportunities
Ability to negotiate contracts as needed
Creative, results-oriented, and driven personality 
Valid Pennsylvania Driver's License - driving record must meet company standards
Valid ServSafe Manager certificate and City of Philadelphia Food Establishment Personnel Food Safety Certificate
SKILLS:
Excellent communication and interpersonal skills, with the ability to solve problems and resolve conflicts that may arise
Exceptional planning, time management, and organizational skills
Excellent sales presentation skills
Computer applications (Word, Excel, Caterease and PowerPoint)
Ability to think independently, see the big picture, and embrace change while taking initiative
We offer a competitive wage and bonus package with a generous benefit offering that includes holidays, vacation time, medical, dental, vision, and 401(k) retirement plan. 
This is a fast-paced, high-performing work environment that values our employees and treats everyone with respect. Join our team today by applying now!
Please submit cover letter and resume to:
Erin Miller, Best Beverage Corporation (BBC) by e-mail only (cover letters / resumes sent directly to the Mann will not be forwarded):
Closing date for applications – October 31, 2018