Blog
From The Vault: Clara Barnes Abbott and the Founding of Robin Hood Dell
Photos: Clara Barnes Abbott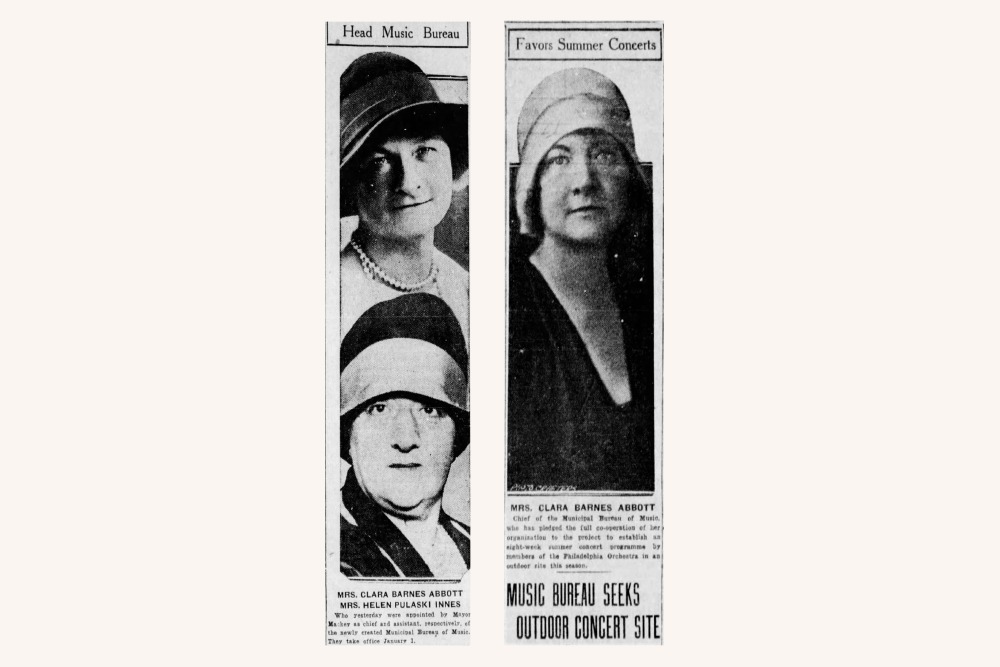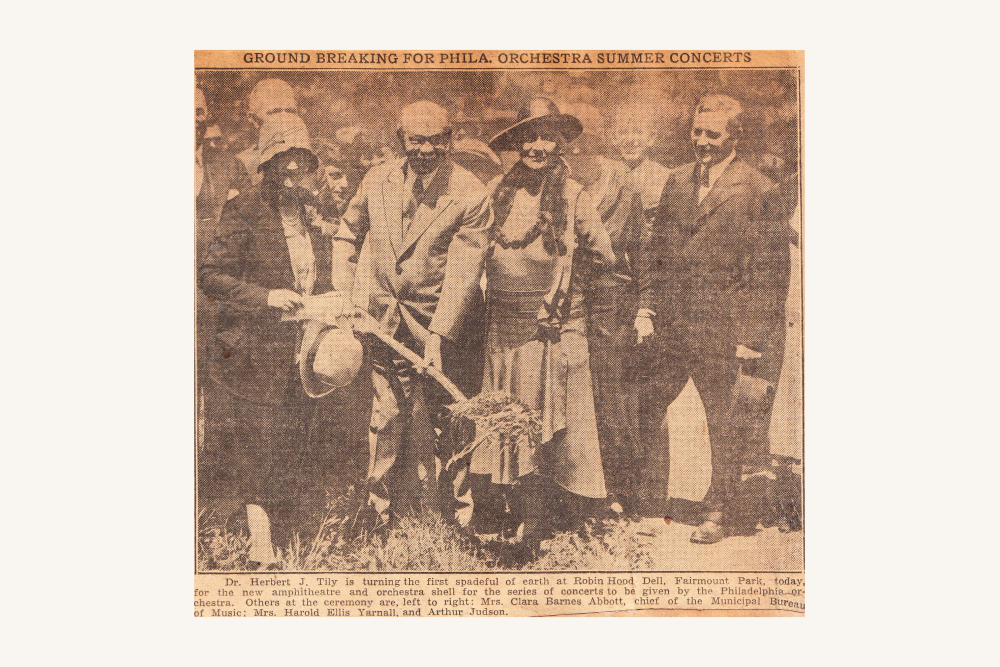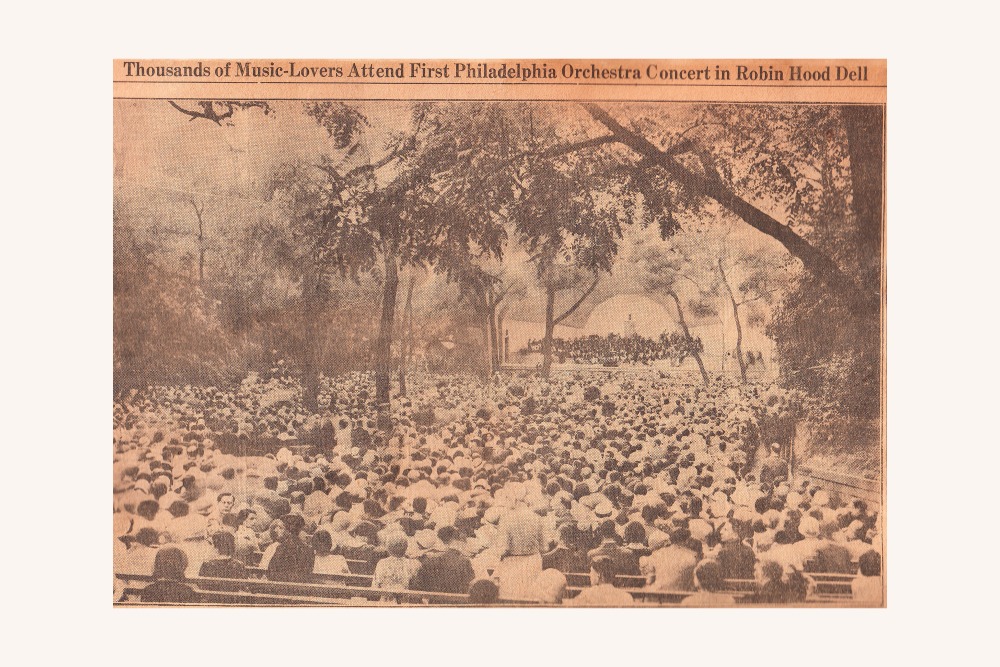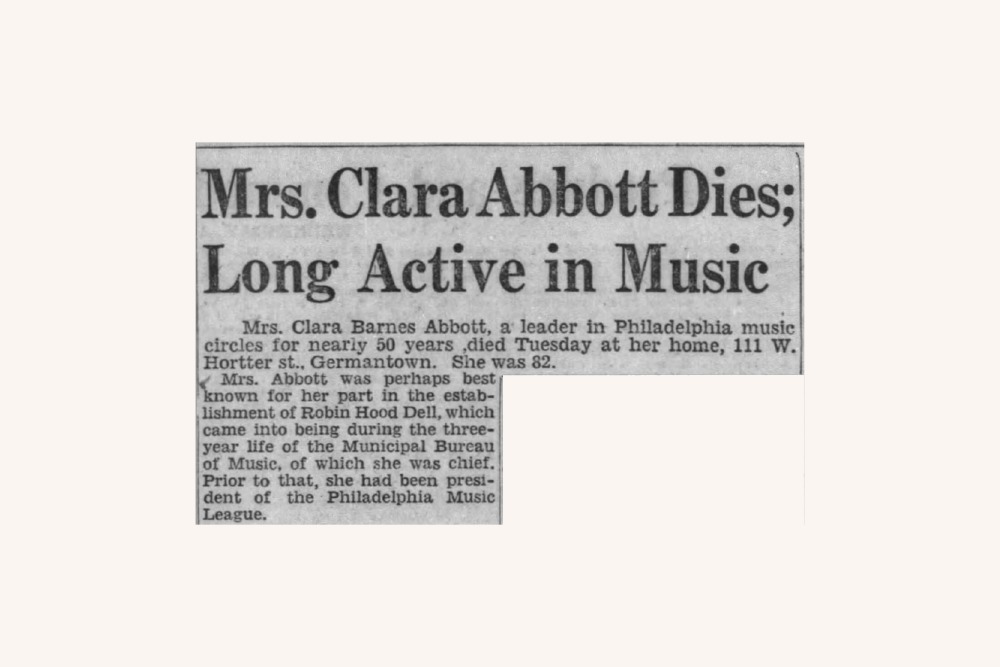 MANN MUSIC ROOM: VAULT
Blog Entry by Jack McCarthy, Historian, The Mann Center for the Performing Arts
The Mann Center traces its history to the Robin Hood Dell, which opened in 1930 in East Fairmount Park as a summer home for The Philadelphia Orchestra. In 1976 the organization moved to a new venue in West Fairmount Park. Originally called Robin Hood Dell West, it was later renamed the Mann Music Center in honor of its longtime director and benefactor Frederic Mann, and subsequently renamed the Mann Center for the Performing Arts.
---
Clara Barnes Abbott, a leading figure in Philadelphia musical circles in the early twentieth century, played a key role in the establishment of the Robin Hood Dell in 1930. While many individuals made significant contributions to the founding of the Dell, Abbott, in her capacity as director of the Philadelphia Municipal Bureau of Music, emerged as a primary spokesperson and coordinator of the effort in early 1930. 
Clara Barnes Abbott was born in 1873 and raised in Chicago, where she attended a musical conservatory. By 1900 she and her husband Frederick Abbott, a civil engineer, had settled in Philadelphia, where Clara became active in various musical organizations. Philadelphia was home to numerous musical clubs and organizations in the early twentieth century that undertook a wide range of activities: producing concerts and recitals, supporting music education, sponsoring scholarships and competitions, and providing music for institutions such as schools and hospitals. Many of these clubs were led by women. Abbott joined the Matinee Musical Club, one of the city's most prominent music organizations, in the early 1900s and served as its president from 1914 to 1919. In 1922 she helped establish and served as president of the Philadelphia Music League, which functioned as an umbrella organization for the city's various music clubs and sponsored large-scale musical pageants and festivals throughout the 1920s. Abbott had a prominent role in the musical activities that were staged as part of the 1926 Sesquicentennial, Philadelphia's celebration of the nation's 150th anniversary.
In 1929 Philadelphia mayor Harry Mackey created a Municipal Bureau of Music and appointed Clara Barnes Abbott as its first director. (Mackey's wife Ida was active in the Matinee Musical Club and other music organizations, which probably was a factor in her husband's decision to create the new city agency.) Serving as assistant director of the Bureau was Ida B. Innes, another veteran of the city's music clubs who had carved out a long professional career in the music business, including serving as the first program director at Philadelphia radio station WIP when it began broadcasting in 1922. 
The Municipal Bureau of Music was in existence for only a little over three years, from 1929 to early 1933, during which time it produced concerts and music festivals, managed two municipal bands, distributed sheet music and radios around the city (the latter donated by Philadelphia radio manufacturer, music enthusiast, and philanthropist A. Atwater Kent), and provided music on-the-go for neighborhood parties and dances by means of a "Municipal Music Car" equipped with speakers and records to play. The Bureau also championed the idea of building an outdoor concert venue as a summer home for the Philadelphia Orchestra, noting in a 1929 report that "the most acceptable offering a city like Philadelphia can present to its citizens is a series of high-class concerts at popular prices by our own Philadelphia Orchestra. To make these … concerts entirely successful there should be a bowl, a stadium, or amphitheater erected in one of Fairmount Park's natural ravines." 
Although the idea of an outdoor music venue in Philadelphia was not new, it quickly gained traction among local civic and music leaders following the 1929 Bureau of Music report. In early 1930 events began to move swiftly, with Clara Abbott making the project a major focus of the work of the Bureau. On March 17, 1930 she told the Philadelphia Inquirer, "To have this ambition realized with concerts by our own glorious Philadelphia Orchestra is fulfillment in the highest sense of purposes for which the Bureau of Music was founded." As head of the Bureau, Barnes helped select the site, a natural amphitheater in East Fairmount Park known as "Robin Hood Dell;" coordinated "Music for the Multitudes Week," a high-profile public relations and ticket selling campaign for the new venue; and participated in the June 2, 1930 groundbreaking. The efforts of Barnes and the many others involved came to fruition with the inaugural concert by The Philadelphia Orchestra at the new Robin Hood Dell on July 8, 1930.
In early 1933, with a new mayoral administration in office in Philadelphia and the Great Depression deepening, the Municipal Bureau of Music was eliminated. Clara Barnes Abbott returned to private life but remained active in the Matinee Musical Club and other music organizations into the 1950s. She died in Philadelphia in 1956 at the age of eighty-two and is buried in West Laurel Hill Cemetery.