Blog
From the Vault: First Series of Pop & Rock Concerts at Robin Hood Dell West (1976)
Photos: Pop & Rock Series at Robin Hood Dell West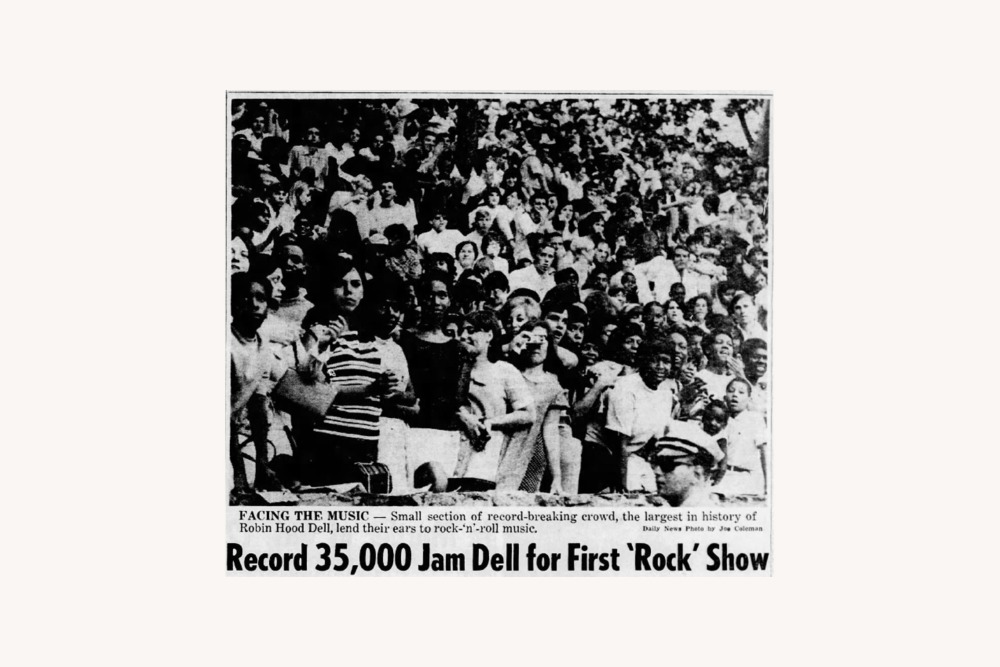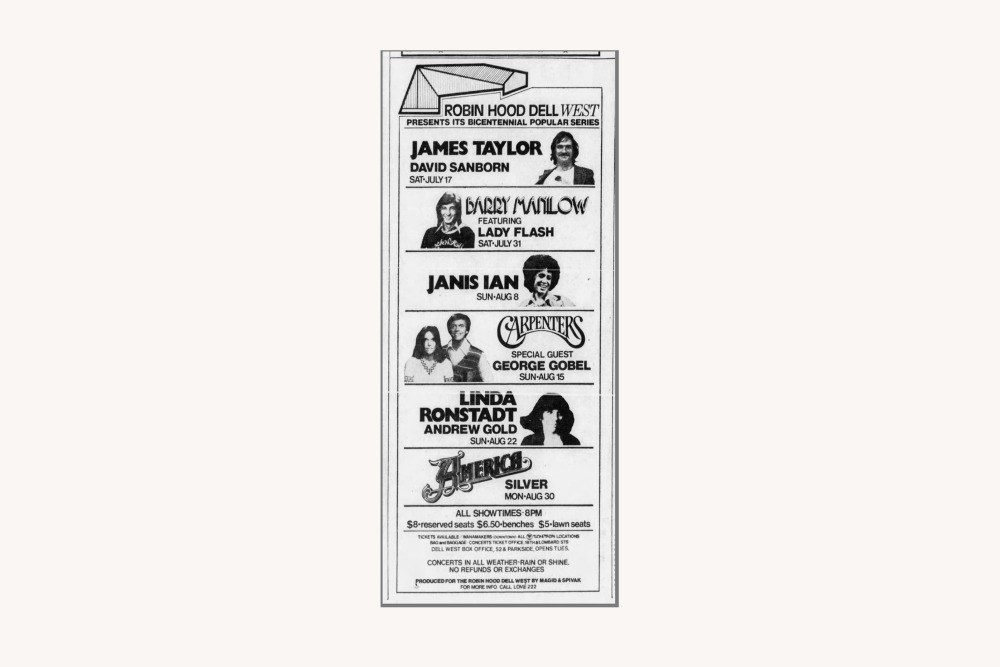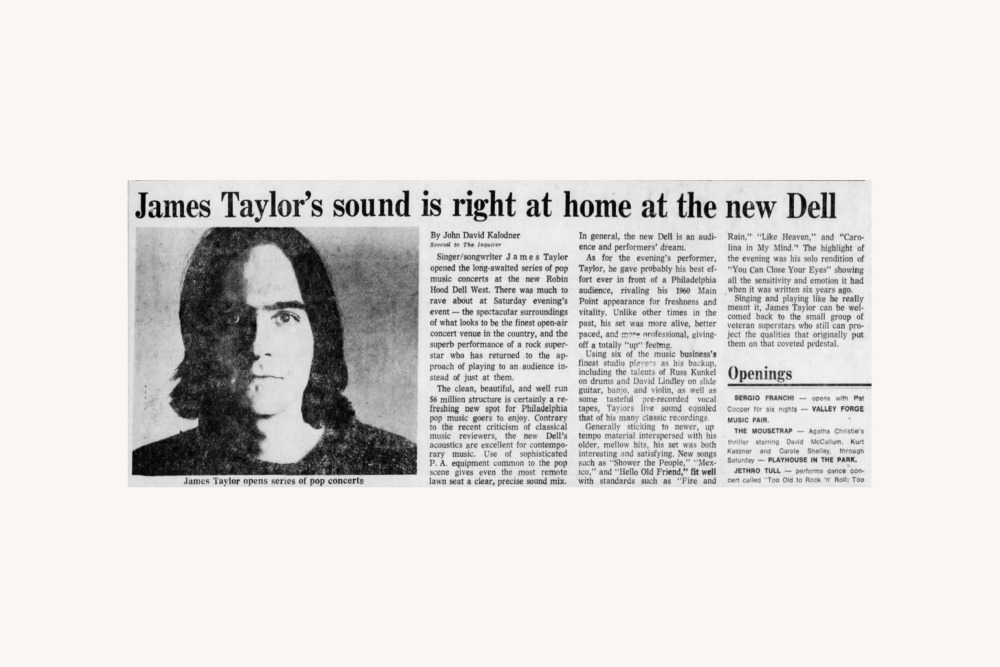 MANN MUSIC ROOM: VAULT
Blog Entry by Jack McCarthy, Historian, The Mann Center for the Performing Arts
The Mann Center traces its history to the Robin Hood Dell, which opened in 1930 in East Fairmount Park as a summer home for The Philadelphia Orchestra. In 1976 the organization moved to a new venue in West Fairmount Park. Originally called Robin Hood Dell West, it was later renamed the Mann Music Center in honor of its longtime director and benefactor Frederic Mann, and subsequently renamed the Mann Center for the Performing Arts.
---
The opening of the new Robin Hood Dell West in the summer of 1976 was not the only major development that year for Philadelphia's premiere outdoor music venue. The 1976 season also saw, for the first time, the integration of pop and rock concerts into the Dell's regular programming. With one notable exception in 1967, Robin Hood Dell concerts had always been symphonic programs, mostly performances of traditional classical music with occasional concerts by popular singers with orchestral accompaniment. Beginning in 1976, pop and rock acts were featured on a regular basis—with their own musical ensembles, not backed by a symphony orchestra.
The original Robin Hood Dell—later renamed "Robin Hood Dell East"—opened in 1930 as a summer home for The Philadelphia Orchestra, designed as a place where the general public could hear world-class symphonic music in an outdoor setting at reasonable prices. In the early years, the music was strictly classical. Popular singers began to be featured from time to time in the 1940s and 1950s—Judy Garland, Dinah Shore, Sarah Vaughan, Jeannette MacDonald, and others—but the programs were still primarily symphonic. The Robin Hood Dell Orchestra (comprised of Philadelphia Orchestra members, but without the first-chair players) would perform one or two symphonic pieces to open each half of the program, then the featured singer would come on to sing popular songs with orchestral accompaniment. Sometimes the singer's accompaniment was pared down to a small ensemble for a few numbers, but the Orchestra was always a prominent part of the concert.
The Dell abandoned this format for one night, August 8, 1967, when local DJ Jerry Blavat, "the Geator with the Heater," co-produced and emceed a "Rock Jamboree" at the venue. Some 35,000 young people jammed the Dell to hear a seventeen-group lineup that included Patti LaBelle and the Bluebells, the Soul Survivors, Bunny Sigler, the Artistics, and others. The musical accompaniment was by a pop/rock band, not the Robin Hood Dell Orchestra. While very successful, the show was a one-off; the Dell returned to its regular programming and would not host another such concert for almost a decade.
As the new Robin Hood Dell West was being planned in the 1970s, there were calls to diversify its programming beyond the traditional classical concerts to include more popular music. Dell President Frederic Mann, deeply devoted to classical music, had always envisioned the Dell as a sanctuary for the works of the great masters, a dignified venue not to be sullied by "low brow" music. However, he realized that a change was necessary, so he reached out to Philadelphia-based Electric Factory Concerts, then one of the most successful rock concert promotion companies in the nation. As Larry Magid, head of Electric Factory Concerts, recalled in a 2012 interview with Philadelphia Magazine:
By 1976, Electric Factory was a well-respected company. The Mann people asked if we would come in to discuss doing rock concerts. We were to meet at Fred Mann's apartment in the Barclay [Hotel] at something like 7:30 in the morning. So we go there and he reads me the riot act about what could and couldn't go on at these shows: "The one thing I don't want is these kids getting up on their chairs or yelling and screaming. You know, this is a dignified place, and we spent a lot of money here, and it's state-of-the-art." So after going through his laundry list of do's and don'ts, I said, "Okay, what do I have to sign?" He said, "There is nothing to sign," and I said, "How do we make the agreement?" "Well, we shake hands and we have some vodka." This is like eight o'clock in the morning. So he pours this Russian vodka, and we throw it back, shake hands again, and now Fred is feeling good. Then he says we have to do it again. Now that's two shots of vodka, a handshake and a big hug. We were in business.
Sensitive to the nature of the venue, Magid booked "soft rock" and pop acts that first season, as opposed to the harder edge rock bands his company usually booked at its main venue, the Spectrum. The headliners for the Dell West's inaugural pop series in 1976—six concerts from mid-July to late August—were James Taylor, Barry Manilow, Janis Ian, the Carpenters, Linda Ronstadt, and America. Magid recalls a humorous incident with Frederic Mann at the second show in the series, the July 30th Barry Manilow concert:
We wanted to come in as softly as possible. So we figure, "Well, who better? We'll bring in Barry Manilow." Manilow was very hot at the time, and people were very excited. I look down to see Mann coming up the steps. He is not a happy guy—he sees these women standing on chairs. And he grabs me and says, "Hey, kid, I thought I told you—people can't stand on chairs. Look at that woman over there! Get her down right now." And I said, "Are you sure?" and he says, "Absolutely." At that point, the woman turns around, and it's his daughter. He just clenches his cigar in his mouth and walks off in a huff. That was the last complaint I heard about people standing on chairs.
So began Robin Hood Dell West's initial foray into regular pop and rock programming in 1976. Over the years, the Dell—renamed the Mann Music Center in 1979, then the Mann Center for the Performing Arts in 1998—continued to diversify its programming, with pop and rock concerts eventually comprising the majority of its offerings.