Blog
From the Vault: Zubin Mehta American Premiere at Robin Hood Dell (1960)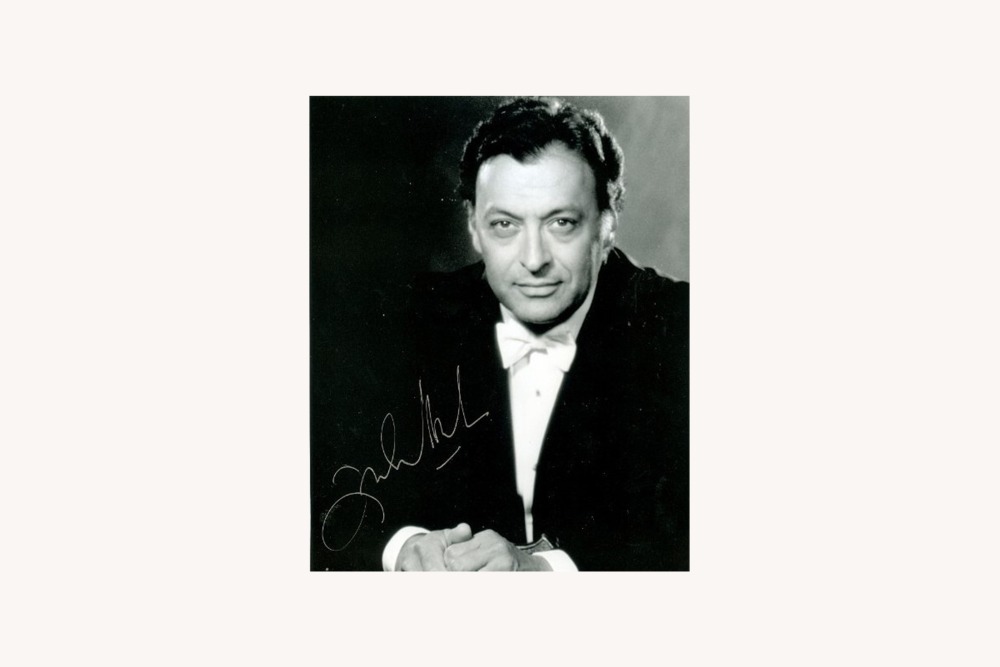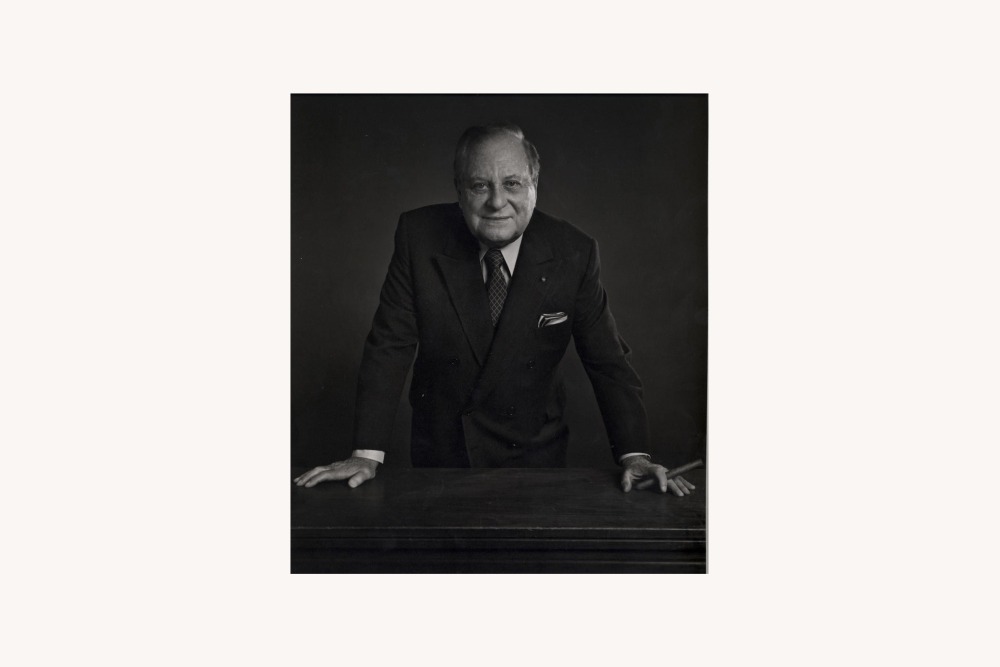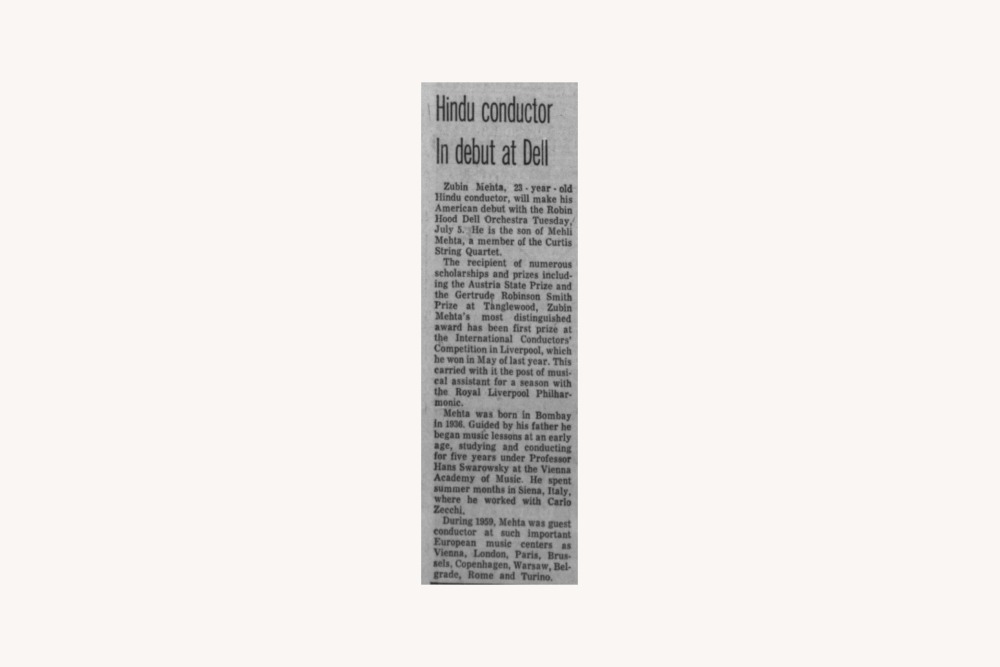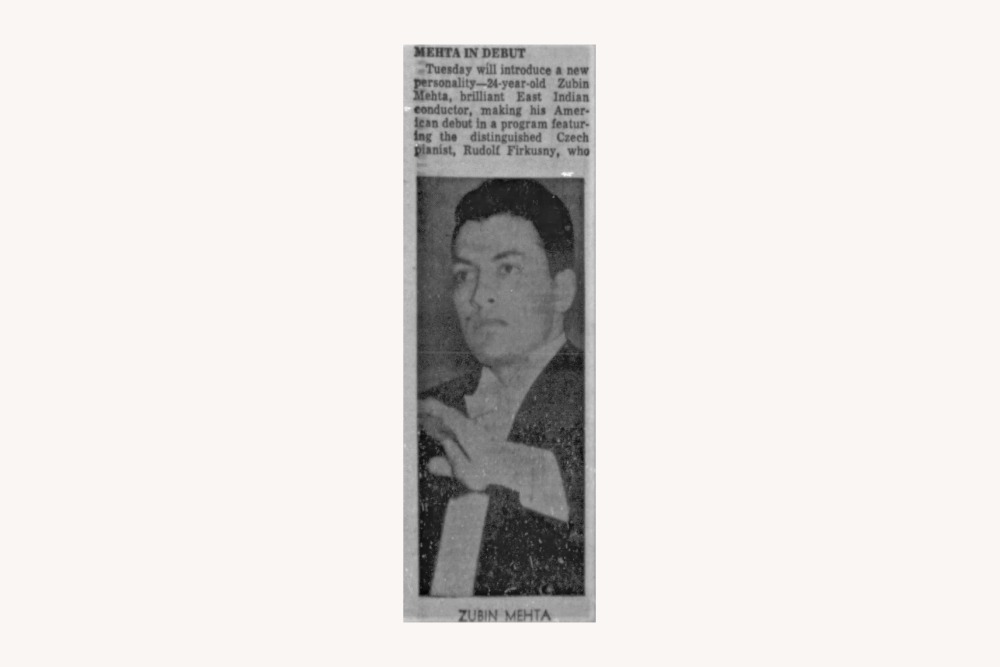 MANN MUSIC ROOM: VAULT
Blog Entry by Jack McCarthy, Historian, The Mann Center for the Performing Arts
The Mann Center traces its history to the Robin Hood Dell, which opened in 1930 in East Fairmount Park as a summer home for The Philadelphia Orchestra. In 1976 the organization moved to a new venue in West Fairmount Park. Originally called Robin Hood Dell West, it was later renamed the Mann Music Center in honor of its longtime director and benefactor Frederic Mann, and subsequently renamed the Mann Center for the Performing Arts.
---
The great Indian-born conductor Zubin Mehta made his American debut at the Robin Hood Dell in 1960. The concert, arranged by Dell President Frederic Mann and legendary conductor Leopold Stokowski, launched the twenty-four-year-old Mehta's career, setting him on a course to become one of the world's top conductors. 
Zubin Mehta was born in 1936 in Bombay (now Mumbai) India, where his father, Mehli Mehta, a violinist, was founder and concert master of the Bombay Symphony Orchestra. Steeped in Western classical music as a child, young Zubin listened often to recordings of The Philadelphia Orchestra made under its two longtime conductors, Stokowski and Eugene Ormandy. Stokowski, Ormandy, and Mann would all figure prominently in Mehta's rise to stardom. 
Mehta studied conducting in Vienna in the mid-1950s and subsequently won high-profile conducting competitions in Europe and the United States, leading to Mann's invitation for him to conduct at the Robin Hood Dell in 1960.  Coincidentally, Mehta's parents had moved to Philadelphia the year before when his father joined the Curtis String Quartet in 1959 (and years later Zubin's son Mervon would serve as vice president of programming and education at the Kimmel Center for the Performing Arts from 2002 to 2009). 
Zubin Mehta's debut at the Dell in 1960 was the result of maneuvering by Stokowski's agent, Siegfried Hearst. Hearst had recently taken on the promising young Mehta as a client and was looking to get him engagements. Stokowski, the world-renowned conductor who had led The Philadelphia Orchestra from 1912 to 1941, had recently returned to Philadelphia as guest conductor after a long absence. He was booked to conduct two concerts at the Dell in the summer of 1960, followed a few weeks later by four concerts with the New York Philharmonic at Lewisohn Stadium, their summer home in New York City. Stokowski, who was then seventy-eight years old, wanted to lessen his workload and suggested to Mann that Mehta take one of his Philadelphia dates. Hearst had actually engineered the whole scenario by intentionally overbooking Stokowski in order to create substitution opportunities for Mehta, who also ended up conducting three of the four Lewisohn Stadium concerts Stokowski was scheduled to lead. 
Mehta was thrilled at the prospect of conducting the Robin Hood Dell Orchestra, which was essentially The Philadelphia Orchestra minus the first chair players. "I was tutored by my father in Bombay to believe that the Philadelphia Orchestra was the greatest orchestra in world," Mehta recalled years later, "I couldn't believe I was standing in front of that orchestra rehearsing." Mehta led the Dell Orchestra in Giuseppe Verdi's La Forza del Destino Overture, Johannes Brahms' Symphony No. 1, and Ludwig van Beethoven's Piano Concerto No. 3, the latter with Czech pianist Rudolph Firkusny as soloist. The July 5, 1960 concert, his American debut, was a great success, generating an enthusiastic audience response and very favorable critical reviews. 
Mehta's success in Philadelphia led to a number of major engagements. As he tells it in his autobiography, he and his wife and two young children were staying with his parents in Philadelphia not long after the Robin Hood Dell concert when he received an offer to conduct the Montreal Symphony. This engagement led to Mehta's appointment as music director in Montreal later in 1960, and the following year he was offered the same position with the Los Angeles Philharmonic. He served as music director of both ensembles simultaneously in the 1960s and 1970s, becoming  one of the first "jet set" conductors who led more than one orchestra at a time. He was also music director of the New York Philharmonic from 1978 to 1991.
In 1961 Frederic Mann helped arrange for Mehta to substitute for Eugene Ormandy when the latter had to cancel an engagement with the Israeli Philharmonic. This started a relationship that eventually led to Mehta's fifty-year tenure as advisor and music director with the Israeli Philharmonic from 1969 to 2019. Mehta and the Israelis performed in the Frederic R. Mann Auditorium in Tel Aviv, named for his early champion and philanthropist. In addition to managing the Robin Hood Dell, Mann had helped to found and was a major benefactor of the Israeli Philharmonic. 
Mehta performed regularly at the Robin Hood Dell and its successor, the Mann Music Center. He led the final concert at the old Dell on July 31, 1975, a performance of Giuseppe Verdi's opera Aida, and was a frequent conductor in the new venue in the 1970s and 1980s. In a 1978 letter to his good friend Eugene Ormandy, who was then nearing the end of his forty-four tenure as music director of The Philadelphia Orchestra,  Mehta discussed his plan to perform at an upcoming fiftieth anniversary concert at the Dell in 1979: "I am glad I shall be conducting at the Dell where I can look forward to making music with your great musicians again," he wrote Ormandy, "The visit to the Dell is also a long standing promise to our friend Freddie Mann to help him celebrate the fiftieth anniversary of his little summer toy."
When Mann died in 1987, Mehta said: "He was my closest friend and mentor and supporter since my first days in the United States. It was through him that I made my debut in America, and we have been very close ever since. He was a unique person in that he was a friend to most of the world's greats. He never asked us for anything. He gave and gave and gave—if not money, then advice and support."
Robin Hood Dell West, Frederic Mann's "little summer toy," was renamed the Mann Music Center in July 1979 and then the Mann Center for the Performing Arts in 1998. Mehta's last performance at the venue was in August 2001 with the Israeli Philharmonic.