Blog
From the Vault: Eugene Ormandy First Appearance at Robin Hood Dell (1930)
Photos: Eugene Ormandy & Robin Hood Dell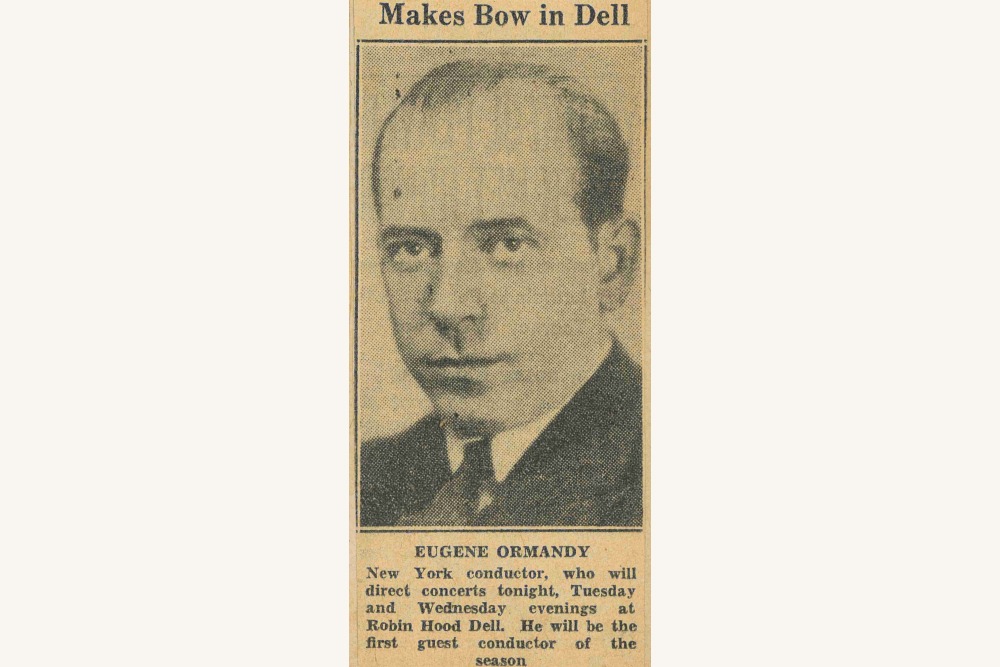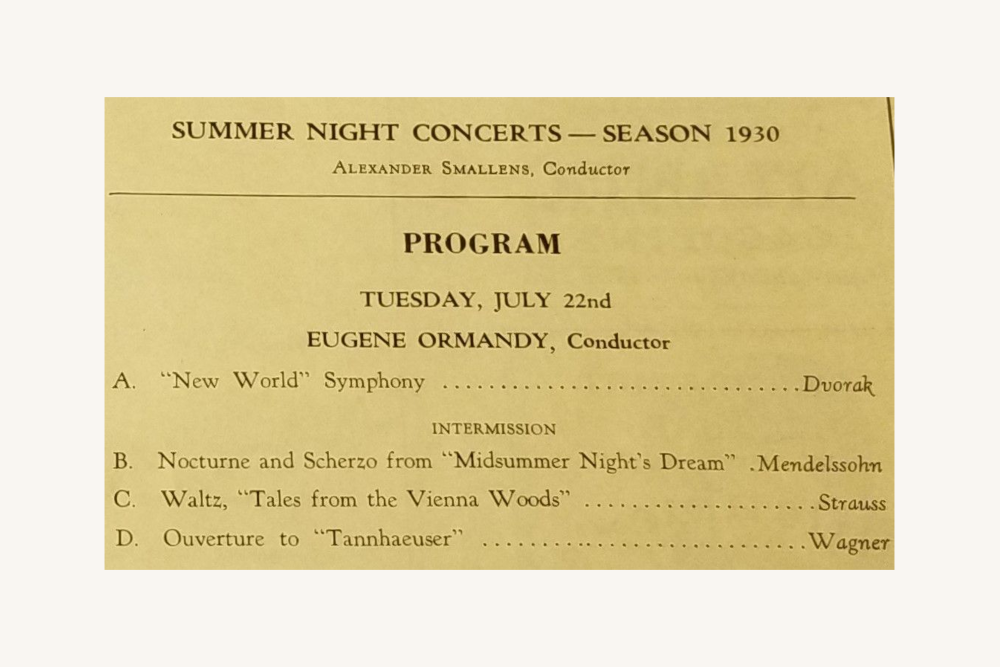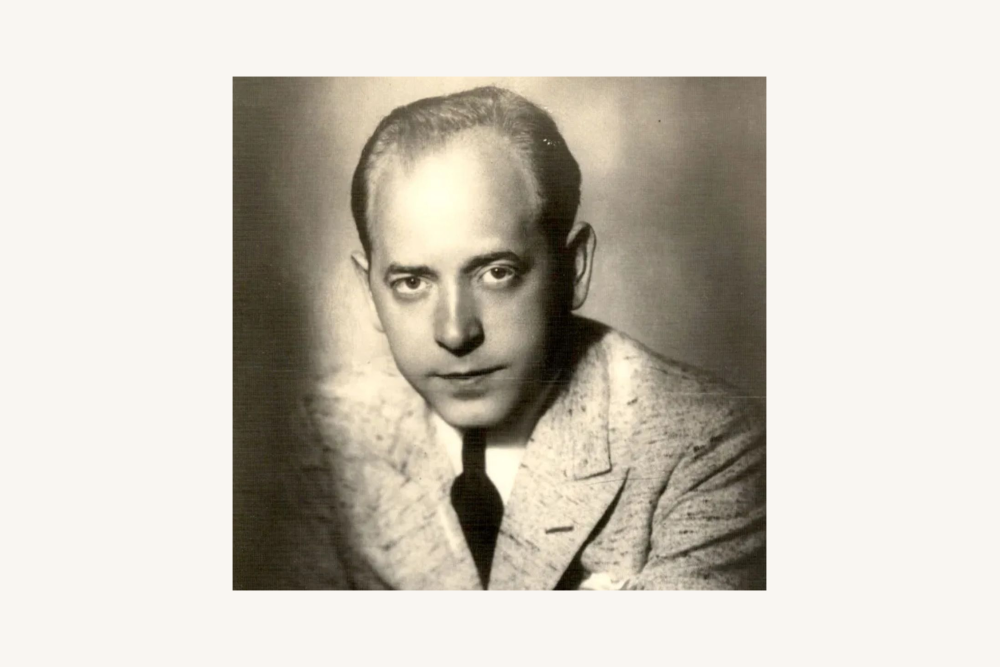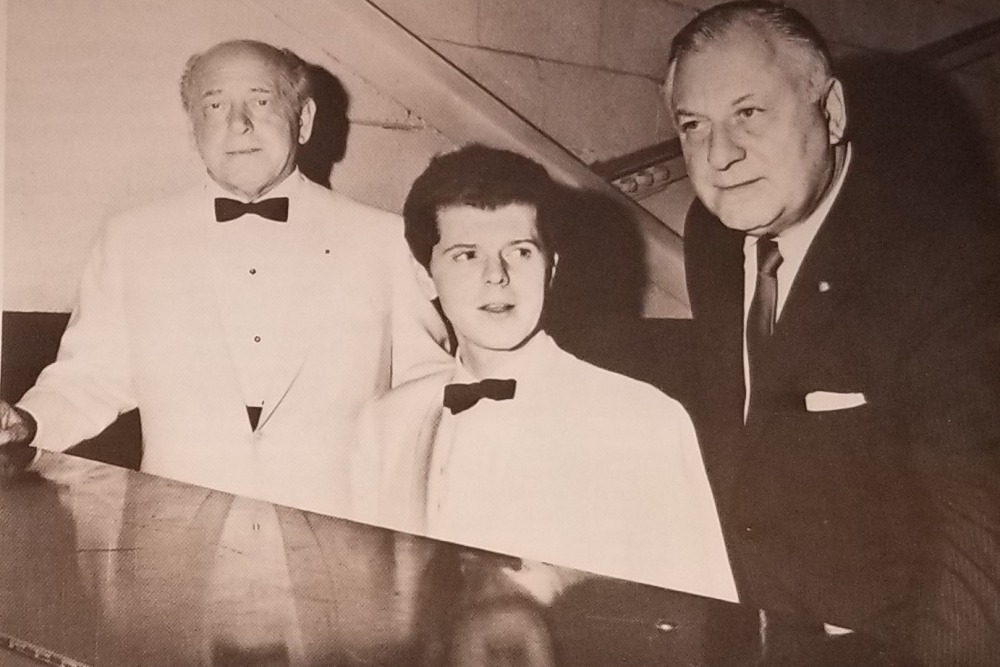 MANN MUSIC ROOM: VAULT
Blog Entry by Jack McCarthy, Historian, The Mann Center for the Performing Arts
The Mann Center traces its history to the Robin Hood Dell, which opened in 1930 in East Fairmount Park as a summer home for The Philadelphia Orchestra. In 1976 the organization moved to a new venue in West Fairmount Park. Originally called Robin Hood Dell West, it was later renamed the Mann Music Center in honor of its longtime director and benefactor Frederick Mann, and subsequently renamed the Mann Center for the Performing Arts.
 
---

Two weeks after the Robin Hood Dell opened on July 8, 1930, it hosted its first guest conductor, a relatively unknown thirty-year-old violinist-turned-conductor named Eugene Ormandy. Born in Hungary, Ormandy immigrated to the United States in 1921 and was working in New York City when he came to the attention of Arthur Judson, arguably the most powerful man in classical music at that time. Judson, who simultaneously managed both The Philadelphia Orchestra and New York Philharmonic while also running a concert artist management company, was one of the founding directors of the Robin Hood Dell. He arranged for Ormandy to guest conduct at the Dell on July 21, 1930, Ormandy's first appearance in Philadelphia.
In what the Philadelphia Inquirer called a "most ambitious programme," Ormandy led The Philadelphia Orchestra in Johannes Brahm's Symphony No. 1, Richard Strass' Till Eulenspiegel, and Richard Wagner's Preludes to Tristan und Isolde and Die Meistersinger. The Public Ledger began its review of the concert by stating that "It may as well be said at once that Mr. Ormandy showed himself to be one of the finest young conductors that have appeared in Philadelphia in many years." The concert was the first of three nights of Ormandy-led performances, at the conclusion of which the Public Ledger reported, "When Eugene Ormandy ended his third program last evening … the orchestra cried 'bravo!' The orchestra refused to obey his appeal to rise in response to the great applause of the audience, thus indicating they wanted him to have every handclap for himself; and when the audience called him back a third time the Orchestra members burst into a veritable yell of approbation."
The success of these concerts and Ormandy's obvious rapport with the Orchestra led to many subsequent appearances in Philadelphia, while he served as conductor of the Minneapolis Symphony Orchestra from 1931 to 1936. When Leopold Stokowski announced in 1936 that he would no longer serve as music director of The Philadelphia Orchestra, Ormandy was appointed the Orchestra's co-conductor. The two men served shared conducting duties over the next five years while Stokowski gradually reduced his time in Philadelphia. With Stokowski's final departure in 1941, Ormandy was sole conductor and music director, a post he held until 1980.  Throughout his forty-four-year tenure with The Philadelphia Orchestra, Eugene Ormandy conducted numerous times at the Robin Hood Dell and its successor, the Mann Music Center, the latter named for his good friend, Frederic Mann.