Make an investment in future generations of music and performing arts. Show your support of the Mann with a commemorative gift.
Let the Music Play Resiliency Fund
The Mann Center for the Performing Arts is a non-profit organization that relies on a combination of earned revenue from ticket, concession, and parking sales as well as rentals, public funding, and the generous contributions of individual, corporate, and foundation donors. With the loss of the traditional 2020 concert season, the Mann is working to close a $3 million gap for the year. While this is not an insurmountable challenge, it is one we must address now.
To help, we have launched the Let the Music Play Resiliency Fund for the Mann: a historic, emergency fund to support the Mann's annual fund and continued community engagement and education programming that immediately went virtual at the outset of the pandemic's arrival in the greater Philadelphia area.
The Nancy R. Newman Endowed Fund
IN GOOD COMPANY
Just as so many great artists have shared their talents with our Mann family, our extraordinary former Executive Vice President for Institutional Advancement, Nancy R. Newman, has dazzled us with her own great performances. Whether producing a blockbuster gala, hosting intimate dinners with supporters at her home, leading a major campaign, or just making sure every patron feels right at home when they step through the gates onto the Mann's beautiful campus, Nancy has left an indelible mark on our institution's storied history.
AFTER 20 YEARS, IT'S OUR TURN TO SAY THANK YOU
In celebration of her retirement in 2019, a group of grateful supporters and friends have initiated a special effort to create a permanent endowment fund in Nancy's name at the Mann Center for the Performing Arts. Investment proceeds generated through gifts to this endowment (ideally separate from annual fund or other campaign commitments) will benefit projects at the Mann that support Nancy's lifelong interests in gardening, music, and art.
A FITTING TRIBUTE
Throughout Nancy's tenure, she was a tireless champion for protecting and improving the Mann's stunning 20-acre campus. Early on, she recognized the importance of preserving our site as an integral part of a visitor's experience in coming to programs at this historic venue. Much of the beauty of our natural park setting, including the various gardens and thoughtfully placed artwork, are the result of Nancy's careful stewardship of this exceptional asset.
The Nancy R. Newman Fund will provide a permanent revenue source to offset the ever-increasing costs of annual maintenance and improvements to our expansive site.
Projects supported by this fund include:
Restoration, preservation, and relocation of the Florentine Lions
Future projects that the Nancy R. Newman Endowed Fund will support:
Renovation of the Donor Terrace gardens
Additional garden beds at campus entrances and other select campus locations
Ongoing maintenance of the Great Lawn
Honor Nancy by making your gift today. 
Gifts to the Nancy R. Newman Fund can be in the form of cash, gifts of stock, or planned gift commitments.
Multi-year pledges are gratefully accepted and a limited number of naming opportunities are available for significant gifts.
Planned Giving
A planned gift to the Mann is an investment in Philadelphia's only outdoor cultural arts venue. It ensures that everything you cherish about this institution from the celebrated artists that grace the Mann stage year after year in beautiful Fairmount Park to the extensive education and community engagement programs that touch thousands of people each summer- all remain for generations to come.
Your generosity to future generations can also benefit you and your family:
Immediate tax deduction
Estate tax savings
Investment income
Your attorney can help you choose the best Planned Giving option for your particular circumstances. For further information about the Mann Center for the Performing Arts, please contact Damaris South, Senior Director of Major Gifts, at (215) 546-7900 Ext. 103.
If you have already remembered the Mann in your estate plans, please call (215) 546-7900 Ext. 103 so we may acknowledge you as a member of The Legacy Society.
Image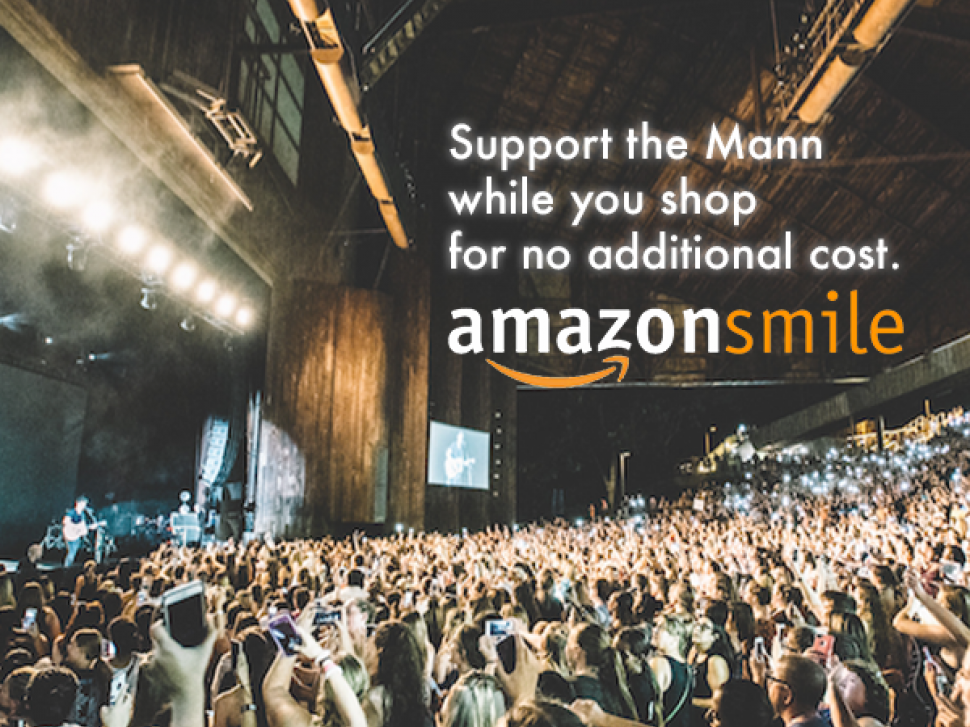 Setting Up AmazonSmile Donations 
Through your browser: Go to smile.amazon.com on your web browser and choose the Mann Center for the Performing Arts as your charitable organization. You may also want to add a bookmark to smile.amazon.com to make it even easier to return and start your shopping at AmazonSmile!
 
Through your Amazon app: Find "AmazonSmile" listed in the Settings menu of your Amazon app. From there, you can follow onboarding instructions to activate AmazonSmile on your device and choose the Mann Center for the Performing Arts as your charitable organization. When you're using the app, always check for the "AmazonSmile" logo to ensure you're activated for AmazonSmile.
Volunteer
Mann Ambassadors serve as volunteers passionate about the Mann's mission. Primarily representing the public face of the Mann on concert evenings during the summer season, Ambassadors are stationed at popular hotspots around the venue, including the VIP Donor Terrace & Garden, to assist patrons or members with any questions about membership and the Mann.
Ambassadors also have the opportunity to volunteer at special events, including our annual golf tournament in April and the Party in the Park gala during the summer.
From behind-the-scenes administrative support in our downtown office to assistance at our largest events, Ambassadors are able to participate in many different capacities throughout the year.
Making new friendships, serving the Philadelphia community, and experiencing world-class performances are just a few of the benefits of becoming a Mann Ambassador today. 
For more information on our volunteer program, please contact Caroline Juelke, Manager of Development Operations, at (215) 546-7900 Ext. 127 or CJuelke@MannCenter.org.