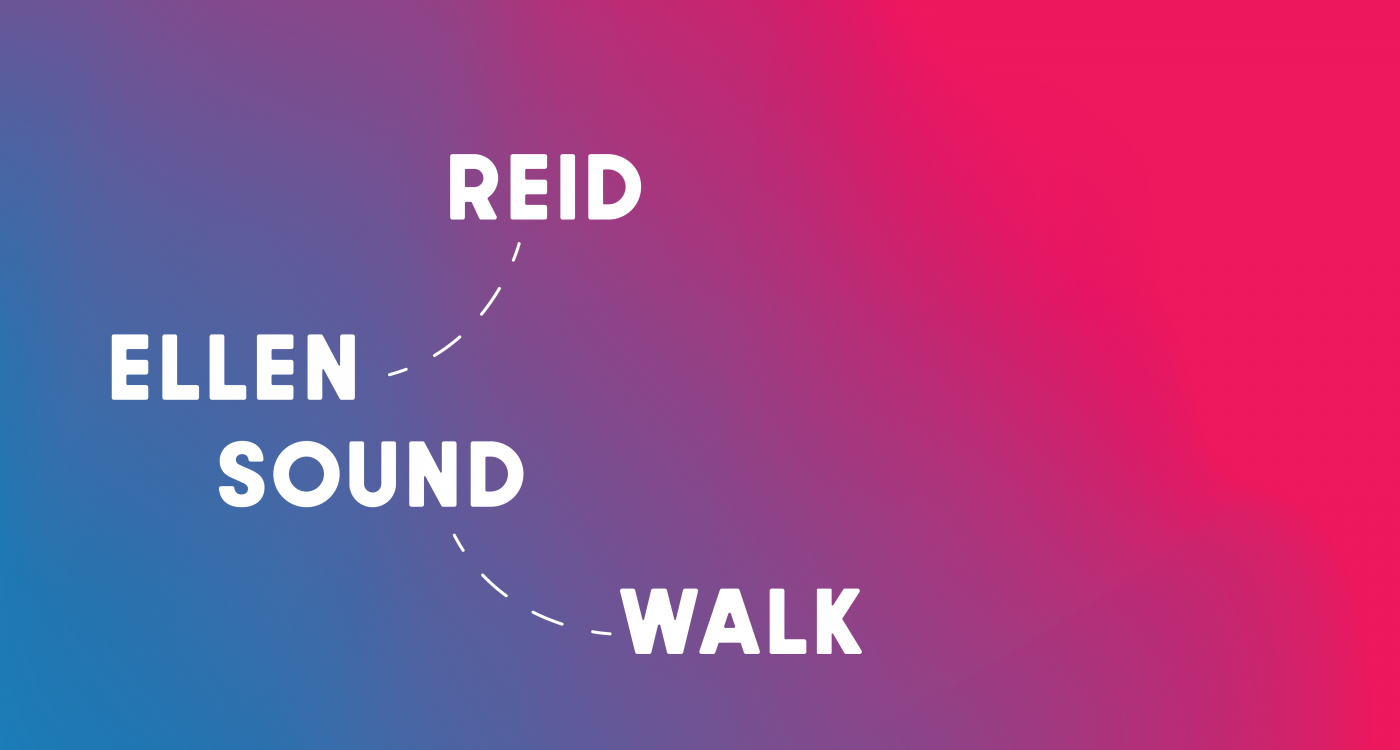 Experience the magic of SOUNDWALK: a sound art installation debuting in Fairmount Park this summer.
Download the app
June 4 – September 30, 2021
Ellen Reid SOUNDWALK is an immersive audio experience tailor-made for Fairmount Park. Co-commissioned by the Mann Center for the Performing Arts in association with the Fairmount Park Conservancy, and recorded by musicians of The Philadelphia Orchestra and the SOUNDWALK Ensemble, Ellen Reid's compositions were meticulously programmed for Fairmount Park and the Mann's campus, and can be experienced via a GPS-enabled mobile app. SOUNDWALK is free to the public and was created with social distancing guidelines in mind.
Participants can experience SOUNDWALK by downloading the free Ellen Reid SOUNDWALK mobile app and listening to the compositions which were customized to reflect the individual journey of each participant through nature. Movement around Fairmount Park triggers musical cells which were carefully crafted to harmonize with the landscape and attractions. The experience is guided by the listener: the path you choose dictates the music you hear, and no two visits will be exactly the same. The installation will remain accessible while in the park until September 30, 2021.
As pictured above, SOUNDWALK is available throughout Fairmount Park, including the Mann's surrounding campus. Only when the Mann is open for business can concert attendees experience SOUNDWALK inside the venue gates.
About Ellen Reid SOUNDWALK
Ellen Reid is one of the most innovative artists of her generation. A composer and sound artist whose breadth of work spans opera, sound design, film scoring, ensemble and choral writing, she was awarded the the 2019 Pulitzer Prize in Music for her opera, prism.
Along with composer Missy Mazzoli, Ellen co-founded the Luna Composition Lab. Luna Lab is a mentorship program for young, female, non-binary or gender nonconforming composers. Since 2019, she has served as Creative Advisor and Composer-in-Residence for Los Angeles Chamber Orchestra.
Ellen received her BFA from Columbia University and her MA from California Institute of the Arts. She is inspired by music from all over the globe, and she splits her time between her two favorite cities – Los Angeles and New York. Her music is released on Decca Gold.
"Reid, in a word, has arrived" - LA Times 
How do I download the SOUNDWALK app?
Download the Fairmount Park SOUNDWALK
Put on your headphones
Press start
Explore
You must be within the Fairmount Park SOUNDWALK boundaries for the installation to work. We recommend downloading the app while you have access to reliable Internet so that it is ready when you begin your walk at the park. For video instructions, click here.
Where else has SOUNDWALK been done?
SOUNDWALK is a traveling installation that music lovers have enjoyed in Griffith Park in California; Central Park in New York; Wolf Trap National Park for the Performing Arts, the Elizabeth River Trail and the Pleasure House Point Natural Area in Virginia; and is launching this summer at the Britt Music & Arts Festival in Oregon. In addition to the Mann and Fairmount Park Conservancy, co-commissioners of the work also include Wolf Trap Foundation for the Performing Arts, the New York Philharmonic, Saratoga Performing Arts Center, and Britt Festival Orchestra.
Who is SOUNDWALK performed by?
CREDITS:
Ellen Reid, Composer and Sound Designer
Eclipse Projects - Producer
THE OFFICE performing arts + film - Producing Consultant
ECHOES.XYZ - App Design and Development
Playtime Studio, Los Angeles - Art
Daniel Neumann - Audio Engineer
Nadia Sirota - Remote Recording Producer
THE PHILADELPHIA ORCHESTRA MUSICIANS:
Patrick Williams, Olivia Staton, flutes
Ricardo Morales, Paul Demers, clarinets
Jennifer Montone, Christopher Dwyer, horns
David Bilger, Jeffrey Curnow, trumpets
Don Liuzzi, percussion
Elizabeth Hainen, harp
Paul Roby, Dara Morales, Amy Oshiro-Morales, violins
Judy Geist, Marvin Moon, David Nicastro, violas
Richard Harlow, Gloria dePasquale, Ohad Bar-David, cellos
SOUNDWALK ENSEMBLE MUSICIANS:
Alex Sopp, flute
Joshua Rubin, clarinet
Rachel Drehmann, horn
Riley Mulherkar, trumpet
Sidney Hopson, percussion
Kyle Poole, drums
Ashley Jackson, harp
Mathis Picard, piano
Ellen Reid, synthesizer
Eliza Bagg, voice
Mona Tian, violin
Nadia Sirota, viola
Gabriel Cabezas, cello
Russell Hall, bass
Ellen Reid Music (ASCAP) Worldwide rights administered by Soundrights Music (ASCAP), a division of Modern Works Music Publishing

All music ©2020-2021 Ellen Reid
Acknowledgements
The team behind SOUNDWALK gratefully acknowledges that the land on which we gather in Fairmount Park are the ancestral lands of the Lenni Lenape people, whose presence and resilience in Pennsylvania continue to this day. We recognize and respect the historical Indigenous inhabitants of this land, as well as Native communities across the Americas.
Ellen Reid SOUNDWALK was co-commissioned by the Mann Center for the Performing Arts in association with The Fairmount Park Conservancy, the New York Philharmonic, Saratoga Performing Arts Center, Wolf Trap Foundation for the Performing Arts, and Britt Festival Orchestra.
The project was made possible in part by the support of Wellcome's international program Mindscapes, a cultural exploration of mental health.
Ellen Reid SOUNDWALK is presented by the Mann Center for the Performing Arts in association with The Fairmount Park Conservancy. Additional local funding for this project is provided to the Mann Center by PNC Arts Alive.