Press Release
"TURN YOUR EVENT INSIDE OUT" AT THE MANN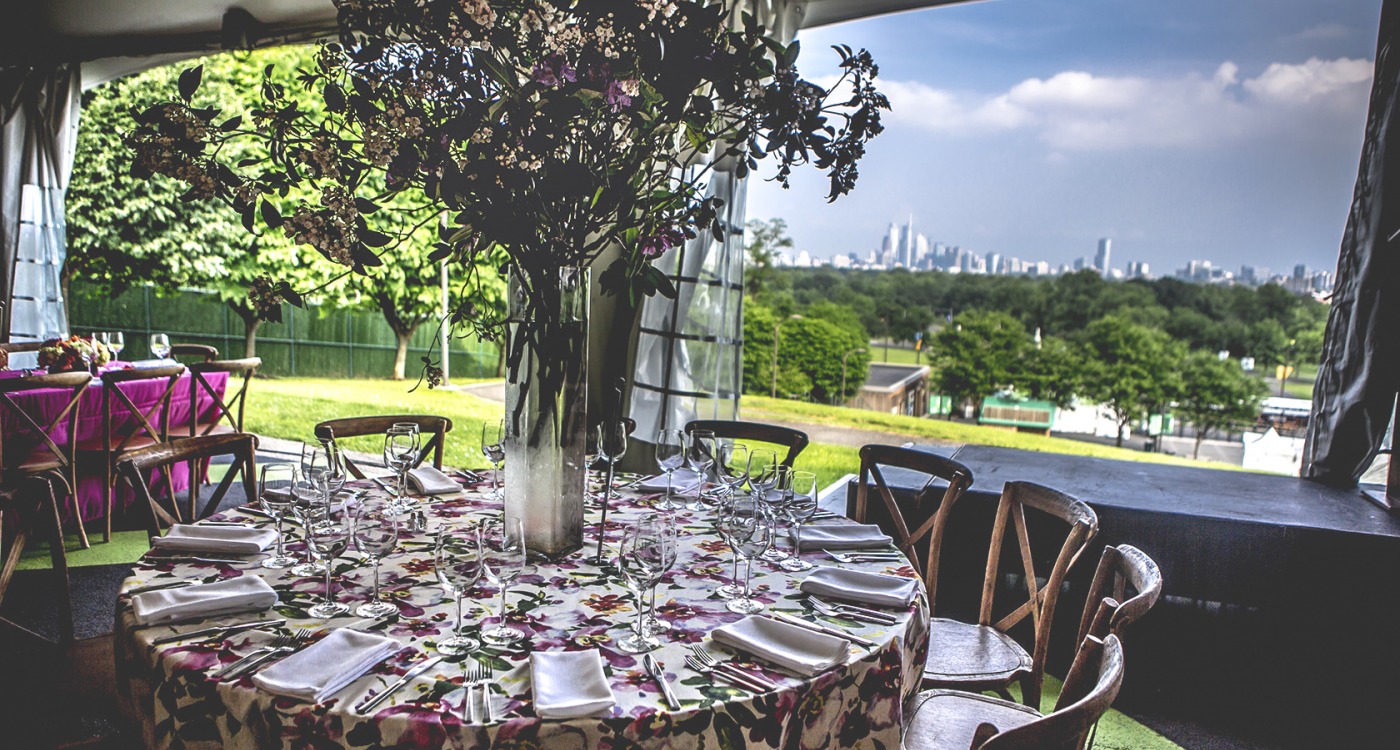 22-acres of outdoor space to accommodate safe and socially distant performances, corporate events, graduations, family occasions, and more from April – October 2021
PHILADELPHIA (Feb. 5, 2021) – A storied, outdoor destination in the middle of Fairmount Park with sweeping views of Philadelphia's city skyline and a full complement of amenities is ready to help performing arts ensembles, private events and all organizations, turn their events "inside out".
The Mann Center for the Performing Arts has long been a venue that presents world-class musical entertainment, but it has also been a sought-after location for corporate entertaining, graduations, weddings, and special events.  With concerns still remaining about the ability for people to gather inside safely, the Mann is providing alternative solutions for organizations to mount socially distant, open-air performances and events of varying sizes across its rolling 22-acre, park-like campus from spring through fall.  
"The outdoor experience at the Mann is beloved, and now because of the pandemic's impact, the venue experience is becoming a lifeline for performing arts companies, corporate events, businesses, non-profit fundraisers, weddings, colleges and universities, and a whole host of other organizations that have understandably had to put their events on hold for the last year," said Catherine M. Cahill, president and CEO of the Mann. "With a variety of distinct outdoor spaces across our campus, including our stages, the Mann is in a position to help organizations resume and reimagine their event schedules. Whether filming live performances that will be shared digitally such as The Philadelphia Orchestra did in August and September of last year or hosting socially distant, in-person gatherings for fundraisers, graduations, and employee events on our campus, the Mann is ready to turn your next event inside out."
Spaces available for rental include: 
Crescendo, a 5,000 sq. ft. tented, outdoor dining space at the top of the Mann's magnificent Great Lawn that looks out to Philadelphia's city skyline
Acclaim, a 2,400 sq. ft. tented space also at the top of the hill that is surrounded by lush garden accents and is adaptable to a wide range of event needs
Donor Terrace & Garden, a 4,000 sq. ft. indoor and outdoor space with a private bar and restroom access, perfect for an intimate gathering
TD Pavilion & Presser Foundation Stage, spanning 6,000 sq. ft. and serving as the host of many historic concerts and performances since 1976
Skyline Stage & Great Lawn, providing a festival-like atmosphere with an open-air scaffolding stage and expansive lawn area which food trucks and vendors can access
Woodlands by TD, an 8,500 sq. ft. space embedded in the Mann's Picnic Grove, offering picnic bench sitting, an illuminated grove of trees, and easy accessibility for a wide array of interactive activities like live entertainment, food trucks, and specialty vendors.
In addition, the Mann's events team can help facilitate in-person events, production services, catering, and flexible pricing packages. The campus is equipped to observe best practices such as timed entry, multiple ingress and egress points, enhanced cleaning procedures, COVID-19 related protocols, temperature checks, multiple restrooms, and hygiene stations, as well as to ensure all spaces are ready to welcome event organizers and guests. Event planners can review the CDC Events and Gatherings: Readiness and Planning Tool for additional information regarding local best practices.
"Delivering incredible experiences that are, first and foremost, safe and socially distanced is our top priority in helping Philadelphia ease back into life this spring, summer, and fall," Cahill added.
For more information on available spaces and booking, visit www.manncenter.org/rentals. 
About the Mann
As one of the foremost outdoor music centers in the country, the Mann Center for the Performing Arts, a leading non-profit organization, has a historical legacy of artistic excellence as a world-class entertainment destination presenting premier artists, now in association with Live Nation Entertainment. Each summer season, renowned symphony orchestras, iconic rock stars and the latest touring artists in indie rock, hip hop, R&B and pop take the stage here. The Mann is the summer home of The Philadelphia Orchestra and has presented critically acclaimed performers in every decade since the 1930s. Located in the heart of Philadelphia's Fairmount Park, the Mann hosts more than 200,000 visitors annually. Signature concert experiences are surrounded by Philadelphia's stunning skyline and include seats beneath the Mann's acoustically acclaimed TD Pavilion; picnics, blankets and music under the stars on its Great Lawn or at the top of the hill at the Skyline Stage; and dining in Crescendo, the venue's spectacular tented restaurant.  In addition, the Mann's Education & Community Engagement Program reaches 30,000 young people annually through free programming that this year has gone virtual.   With its new, online Mann Music Room: Learn, people of all ages are exploring global cultures through original episodes of programming that connect artists and audiences, home to home.  For more information, visit www.manncenter.org.
# # #