News
The lion still roars: Robert Plant & the Sensational Space Shifters at the Mann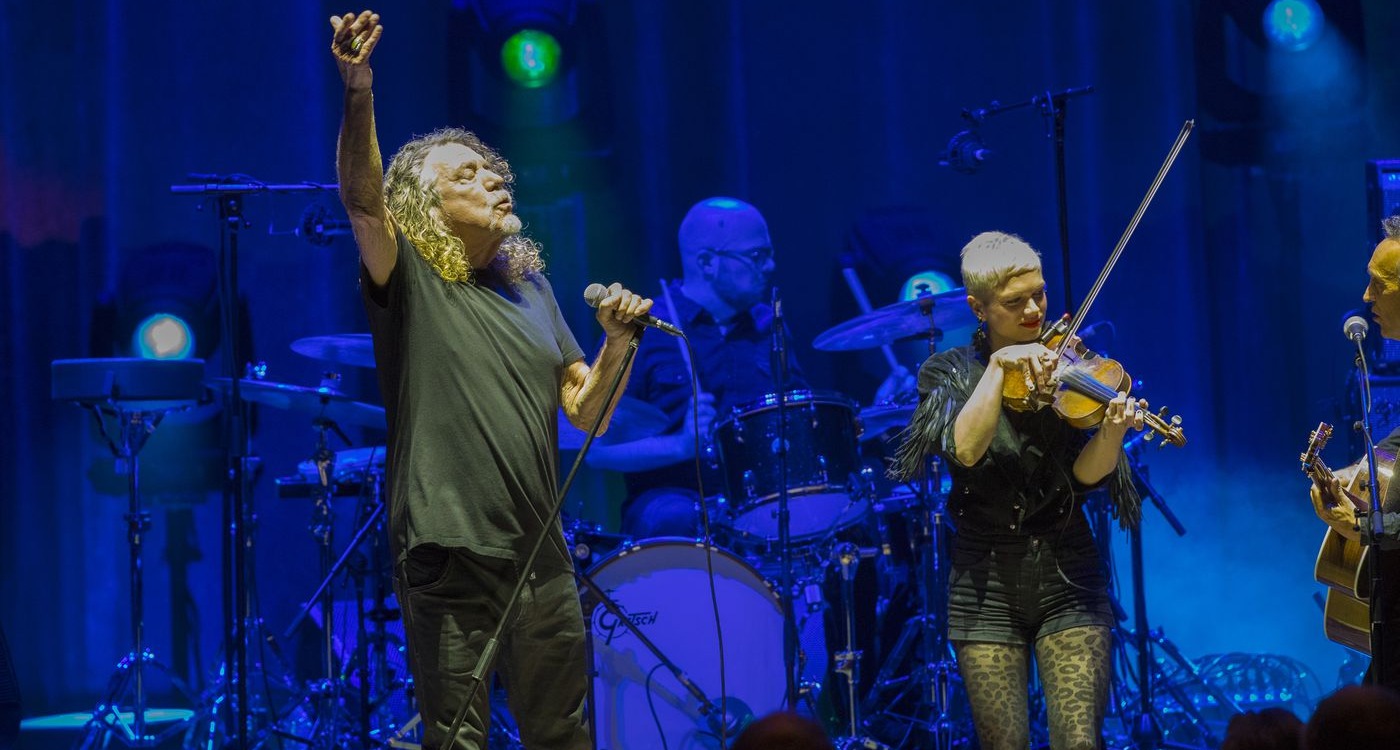 CHARLES FOX / STAFF PHOTOGRAPHER
by Dan DeLuca | The Philadelphia Inquirer
Robert Plant is the gracefully aging Golden God, the Man Who Won't Reunite Led Zeppelin, and also the rarest of rock dinosaurs: a 71-year-old who doesn't look ridiculous in leather pants.
Plant has had a most musically fruitful 21st century, delving deep into Americana on Raising Sand, his 2007 Grammy-sweeping collaboration with Alison Krauss, and Band of Joy, his 2010 hookup with then-partner Patty Griffin.
He's since got back to his Britishness, relatively speaking, with Lullaby and the Ceaseless Roar in 2014 and Carry Fire in 2017, both recorded with a wildly versatile band he's called the Sensational Space Shifters.
Before Plant and the band took the stage, a video was shown of Swedish teenager Greta Thunberg addressing a United Nations Climate Change Conference in Poland in 2018. "You are stealing our future," the environmental activist said. Then Link Wray's "Rumble" rumbled, and the headliner commenced the show with an old song his followers were delighted to hear.
It was "What Is and What Should Never Be," from Led Zeppelin II. That's the "you will be mine, by takin' our time" song, with the wicked descending riff. It was an immediate sign that the singer with the shoulder-length curls and gray goatee — a lion who still roars — was willing to revisit the catalog of the blues-metal band with whom he once so memorably ululated alongside guitarist Jimmy Page.
It was in that mode that Plant returned to the Mann Center on Tuesday night, with a reshaped version of the Space Shifters that now includes Nashville fiddler and guitarist Lillie Mae.
After brief introductory remarks — "We come from the Old World and … you think you've got problems," he quipped — that's just what Plant did. Six of the dozen songs played during the enthralling hour-and-a-half set originated in the Led Zeppelin oeuvre.
None, however, sounded exactly like they did in the band's heyday. Before he found his late career groove with Raising Sand, Plant had called his previous 2005 album — a collaboration with Space Shifters guitarist Justin Adams — The Mighty ReArranger.
Now, with a band that gives him the flexibility to do so, Plant mixes the music up as he pleases, never settling for sitting still. That goes for Led Zep classics like "Black Dog," transformed into a blues stomp, as well as older songs he has excavated and personalized that have traveled back and forth across the Atlantic, circling around on themselves.
On Lullaby's "Little Maggie," a murder ballad born in the British Isles and transported to Appalachia began acoustically, with Liam "Skin" Tyson" on banjo, Lillie Mae (last name: Rische) on fiddle and Adams on a North African oud, before John Baggot's electronic keyboard added contemporary texture.