Press Release
AUDUBON'S MEGAN O'SHEA HONORED AS PHILADELPHIA BUSINESS JOURNAL 2020 CFO RISING STAR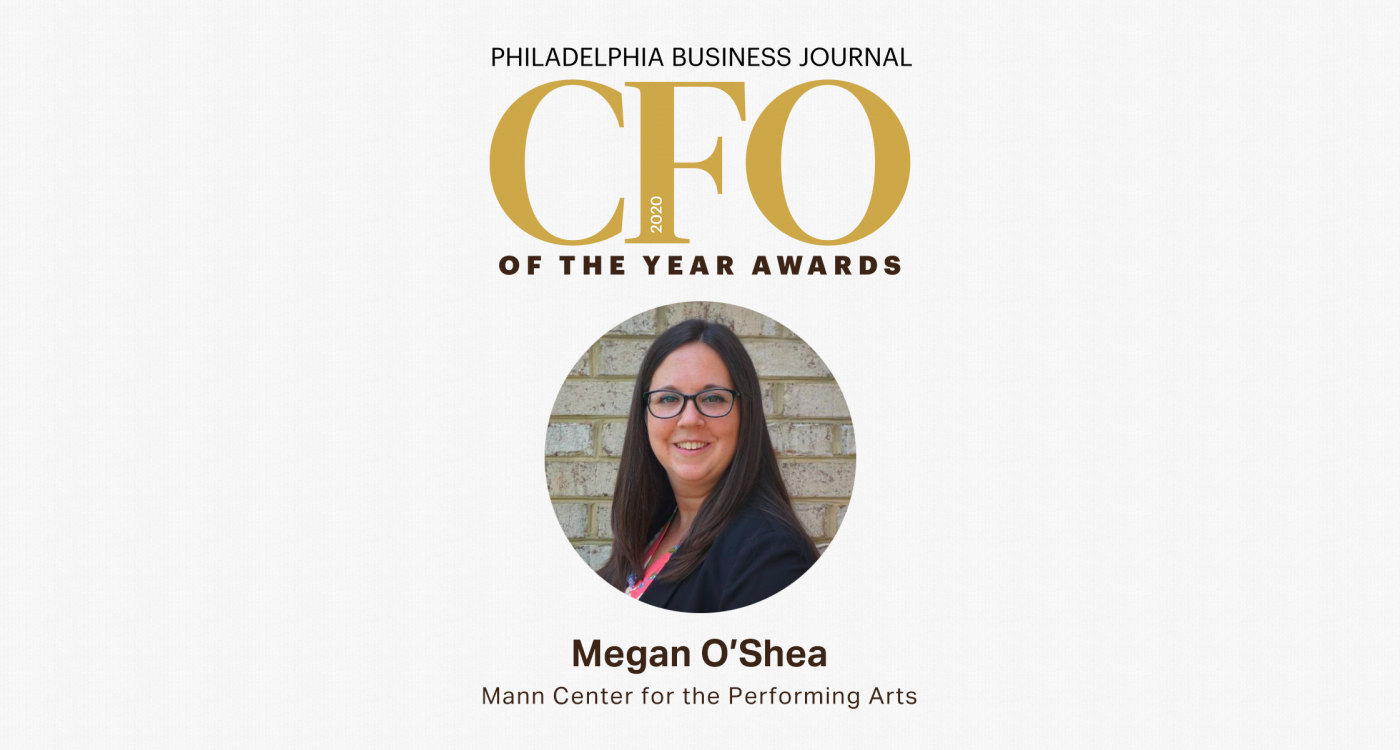 Megan O'Shea is Chief Financial Officer at the Mann Center for the Performing Arts
PHILADELPHIA (July 30, 2020) – The Mann Center for the Performing Arts is pleased to announce that Chief Financial Officer Megan O'Shea of Audubon, N.J., was honored as a 2020 Rising Star for the Philadelphia Business Journal's CFO of the Year Awards. This year's award ceremony took place virtually on July 30, where O'Shea was recognized along with the program's other honorees.
"I am beyond thrilled to be chosen as an honoree for the Philadelphia Business Journal's CFO of the Year Awards," said O'Shea. "My work at the Mann has meant so much to me over the past five years. We have a storied history of presenting world-class artists to music patrons in our spectacular setting in the middle of Fairmount Park, and as a non-profit, we also have a mission of providing education and community engagement programming for young people, in particular.  During these many months of uncertainty, our team has continued to provide leadership in art education by offering compelling, accessible virtual programming that connects artists with children, students, and families at home. I take great pride in my role as a financial steward for this cultural treasure," she said.  
Since joining the Mann in March of 2015, O'Shea has contributed to the Mann's Finance Department with responsibilities including accounting, audit, treasury, construction financing, and board relations. She has propelled the organization into a place of financial stability and into a position of generating operating surpluses for four consecutive years. She has implemented robust accounting processes and procedures that are rigorously adhered to across the organization and collaborates with all department leaders on budgeting throughout the fiscal year. O'Shea has also been instrumental in working with the City of Philadelphia and the State of Pennsylvania to secure funding for capital improvements for the Mann's 22-acre campus in Philadelphia's Fairmount Park.
"Megan's experience, talent and dedication is central to the Mann's success, especially now," said Catherine M. Cahill, president and CEO of the Mann. "It was no surprise to see Megan nominated for this award. We are so proud of the important work she has done, and it is such a pleasure to be sharing Megan's accomplishments with the region."
O'Shea's experience encompasses over a decade of accounting. She started her career in the audit practice at GRF CPAs & Advisors, where she specialized in non-profit client engagements. Additionally, O'Shea has served as Assistant Controller for Volunteers of America Chesapeake, Inc. For the past three years, she has been a member of the Greater Philadelphia Cultural Alliance's Emerging Leaders Circle.
O'Shea earned a Bachelor of Science in accounting from Salisbury University. She currently resides in Audubon, N.J., where she is an avid Philadelphia sports fan, bowling league champion, and proud pet parent to her pit bull mix, Carson. 
About the Mann
As one of the foremost outdoor music centers in the country, the Mann, a leading non-profit organization, has a historical legacy of artistic excellence as a world-class entertainment destination. Each summer season, renowned symphony orchestras, iconic rock stars, and the latest touring artists in indie, rock, hip hop, R&B, and pop take the stage here. The Mann is the summer home of The Philadelphia Orchestra and has presented critically acclaimed performers in every decade since the 1930s. Located in the heart of Philadelphia's Fairmount Park, the Mann hosts more than 200,000 visitors annually. Signature concert experiences are surrounded by Philadelphia's stunning skyline and include seats beneath the Mann's acoustically acclaimed TD Pavilion; picnics, blankets, and music under the stars on its great lawn; and dining in Crescendo, the venue's spectacular tented restaurant. For more information, visit www.MannCenter.org.
###