Press Release
MANN CENTER NAMES FOUR NEW MEMBERS TO BOARD OF DIRECTORS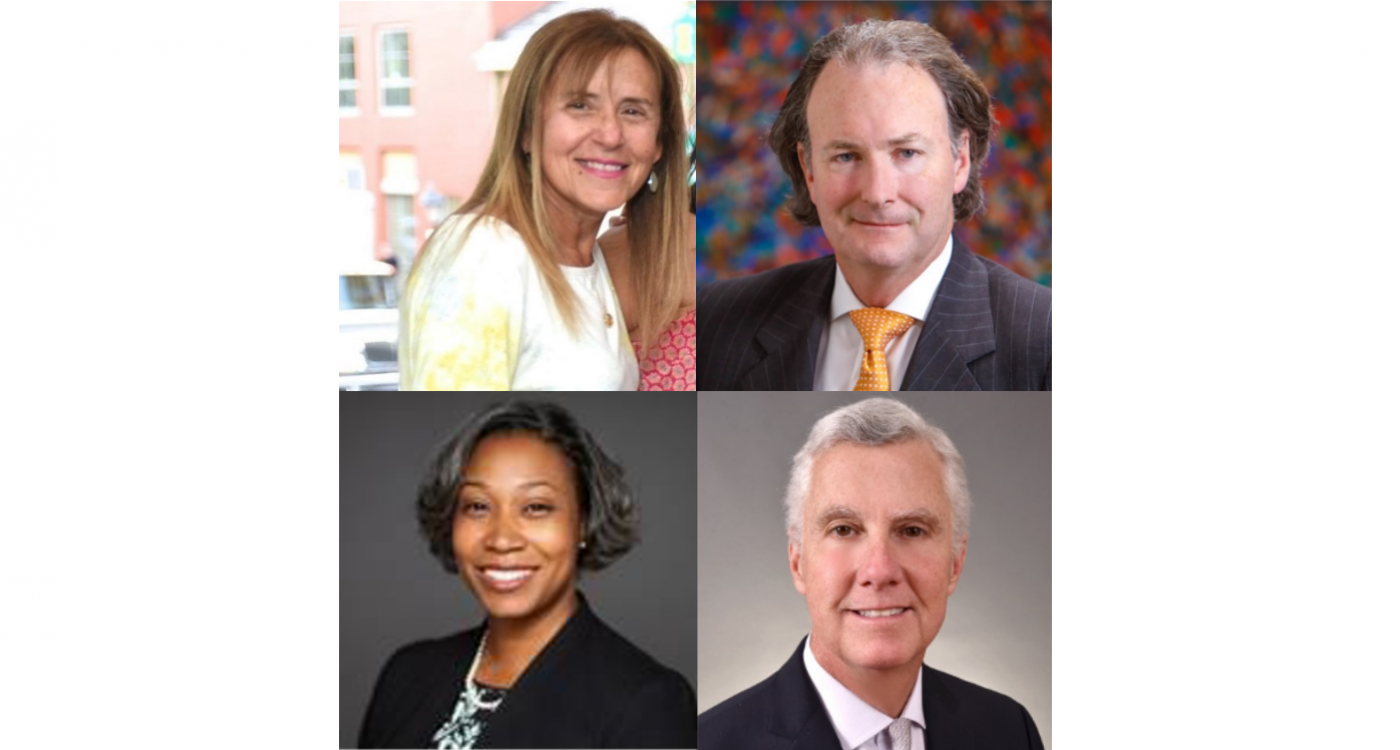 PHILADELPHIA (Jan. 4, 2021) — The Mann Center for the Performing Arts is pleased to announce the appointment of Brucie Baumstein, Gerald Lawrence, Toya Lawson and Matthew Panarese to its board of directors. All four newly elected members share experience in serving the Philadelphia community in various nonprofit leadership capacities.
"It is with great pleasure that we welcome Brucie, Gerald, Toya and Matthew as the newest members of the Mann's board of directors," said Catherine M. Cahill, president and CEO of the Mann. "In addition to their demonstrated commitment to the region, together, they represent a breadth of experience and passion for the Mann in areas that are critical to our operations including real estate, legal, human resources, and finance.  Their valued expertise, along with that of our dedicated board, bring an array of dynamic skills that we are grateful for as we continue to pursue our mission as a world-class performing arts center, a highly engaged community partner, and an innovator in the area of arts education for our young people."    
Baumstein is president of Homebred Properties, a real estate investment and management company in Gladwyne, Pa., with over 40 years of experience in the real estate industry. As president, Baumstein manages day-to-day operations including leasing, maintenance and rent-rolls. Baumstein is also passionate in her support of education and the arts in the Greater Philadelphia community, having served as president of the Home & School Association for Gladwyne Elementary School and Harriton High School, as well as a member of various committees for the Philadelphia Museum of Art and the Philadelphia Craft Show. Baumstein is a graduate of Temple University and Miami University.
Lawrence is an attorney and shareholder with Lowey Dannenberg PC in Conshohocken, Pa., specializing in healthcare and investor litigation. He has a long history of political and community involvement. He is the former Chairman of the Pennsylvania Board of Law Examiners and also served as Vice-Chairman of Pennsylvania's attorney Disciplinary Board.  As a member of the Democratic National Committee, he has five times been a Delegate to the Democratic National Convention, including in 2020, and is both legal counsel to and Caucus Chairman of the Pennsylvania Democratic State Committee.  In 2020, he was one of Pennsylvania's 20 Presidential Electors.
In addition, Lawrence serves as president of the James A. Finnegan Fellowship Foundation, a provider of internships and scholarships to Pennsylvania students interested in state government. He is also a trustee of the Agnes Irwin School a member of the Chairman's Council of the Mann. Lawrence received his bachelor's degree from Georgetown University and his J.D. from the Villanova University School of Law.
Toya Lawson launched the Philadelphia office of Bridge Partners in 2019, where she serves as a Partner and works to achieve the executive search firm's mission of diversifying leadership teams. Her clients include major corporations, nonprofits, public sectors and social impact organizations, both nationally and internationally. Before joining Bridge Partners, Lawson was a managing director at a Philadelphia-based boutique, retained-search firm. Having 20 years of experience in the recruitment industry, Lawson has successfully completed search assignments at all organizational levels.
Outside of her work in the recruitment industry, Lawson participated in Leadership Philadelphia's Core Program Class in 2019. She serves as a member of The Forum of Executive Women and The POWER of Professional Women in addition to serving on the board of Career Wardrobe in Philadelphia. Lawson is a graduate of Arcadia University and served on the university's board of trustees for 11 years.
Panarese is the managing director of The Rockefeller Family Office Mid-Atlantic Region based in Philadelphia. In his role, Panarese advises high net worth and ultra-high net worth clients, as well as foundations and endowments on investment management, wealth and tax planning, complex wealth transfer strategies and client accounting services. Previously, he was president of the MidAtlantic Region for Wilmington Trust Company, where he was also founder and head of the National Business Owner Practice Group. Panarese joined Wilmington Trust as managing director, where he advised senior private clients for over five years before being named regional president for Philadelphia & Suburban Wealth Advisory. 
Outside of his experience in financial and investment advisory services, Panarese serves as a director of the Rockefeller Trust Company (Del.), SquashSmarts and The First Tee of Greater Philadelphia.  He also serves on the Penn Squash Alumni Board Development Committee. Panarese is a graduate of the University of Pennsylvania.
About the Mann
As one of the foremost outdoor music centers in the country, the Mann Center for the Performing Arts, a leading non-profit organization, has a historical legacy of artistic excellence as a world-class entertainment destination presenting premier artists in association with Live Nation Entertainment. Each summer season, renowned symphony orchestras, iconic rock stars and the latest touring artists in indie rock, hip hop, R&B and pop take the stage here. The Mann is the summer home of The Philadelphia Orchestra and has presented critically acclaimed performers in every decade since the 1930s. Located in the heart of Philadelphia's Fairmount Park, the Mann hosts more than 200,000 visitors annually. Signature concert experiences are surrounded by Philadelphia's stunning skyline and include seats beneath the Mann's acoustically acclaimed TD Pavilion; picnics, blankets and music under the stars on its Great Lawn or at the top of the hill at the Skyline Stage; and dining in Crescendo, the venue's spectacular tented restaurant.  In addition, the Mann's Education & Community Engagement Program reaches 30,000 young people annually through free programming that this year has gone virtual.   With its new, online Mann Music Room: Learn, people of all ages are exploring global cultures through original episodes of programming that connect artists and audiences, home to home, and include printable student activity guides for further enrichment.  For more information, visit www.manncenter.org.
# # #