Press Release
DR. NAOMI JOHNSON-BOOKER AND REV. DR. LORINA MARSHALL-BLAKE APPOINTED TO MANN'S BOARD OF DIRECTORS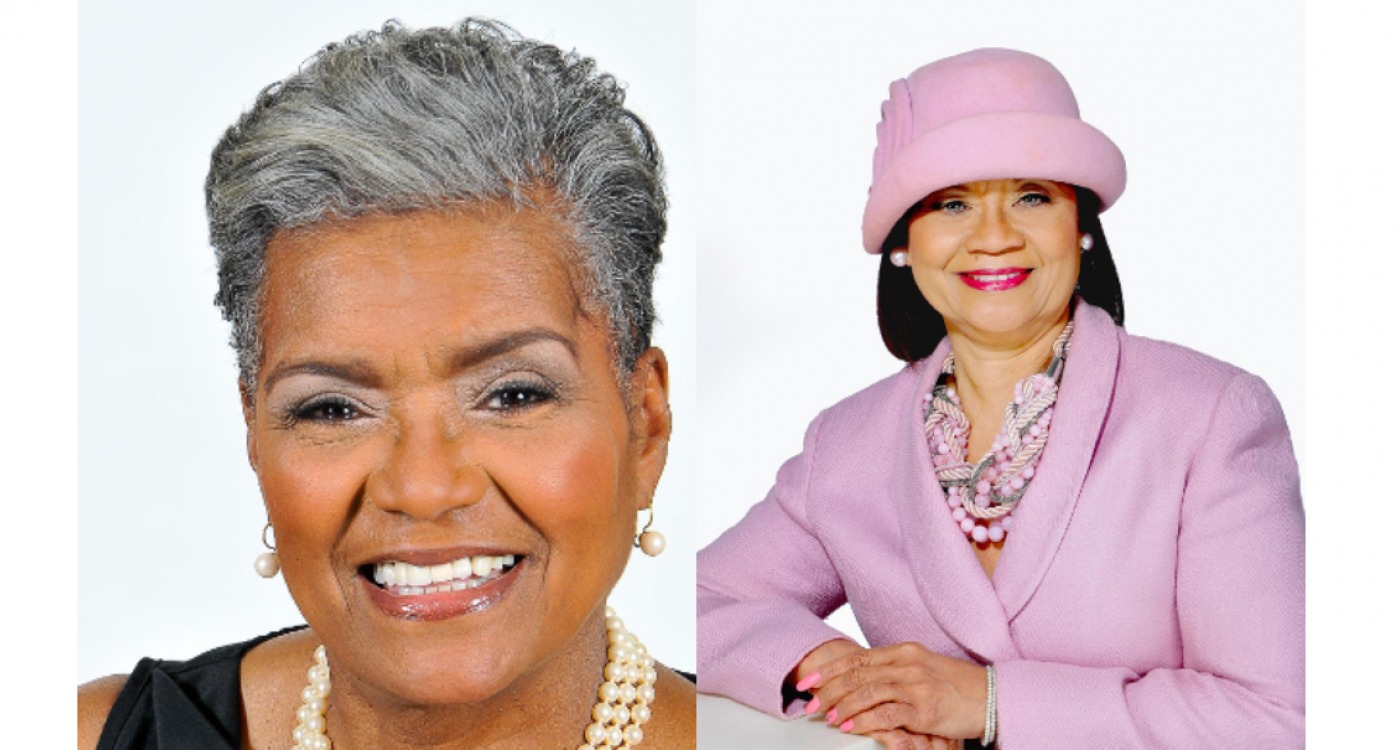 Innovative civic leaders dedicated to improving lives of Philadelphians join the nonprofit performing arts center
PHILADELPHIA (SEPTEMBER 8, 2021) — The Mann Center for the Performing Arts announced two newly appointed Board of Directors members, Dr. Naomi Johnson-Booker and Rev. Dr. Lorina Marshall-Blake. Dr. Booker brings her stellar reputation as a public education innovator and Rev. Dr. Marshall-Blake arrives with her wealth of leadership experience throughout the community.
"The Mann is thrilled to add Dr. Johnson-Booker and Rev. Dr. Marshall-Blake to our board of directors," said Catherine M. Cahill, president and CEO of the Mann. "With Naomi's long-standing dedication to students, fostering their academic and cultural growth, and Lorina's deeply respected commitment to advancing healthcare and wellness in the region; the Mann's board of directors welcomes these two remarkable leaders. Their collective experience and passion will enable the Mann to continue to meaningfully contribute to our West Philadelphia neighborhoods and the city at large."  
Dr. Naomi Johnson-Booker is CEO and Founder of Global Leadership Academy (GLA), a K-8 charter school in West Parkside, Philadelphia. Through GLA's leadership and global studies program, Dr. Johnson-Booker incorporates learning outside the classroom into the school's curriculum through U.S. and overseas excursions.
Dr. Johnson-Booker served for 30 years in the School District of Philadelphia as an area superintendent transforming and managing 15 schools. In 2001, she entered the charter school sector, serving as regional vice president of curriculum and instruction for a charter school management organization. 
Dr. Johnson-Booker's status as an esteemed educator is widely recognized. In 2020, Philadelphia City Council named Dr. Johnson-Booker a "Philadelphia Living Legend." Dr. Johnson-Booker was also honored by the Philadelphia Business Journal as a "Woman of Distinction." 
"I am incredibly honored to serve on the Mann's Board of Directors," said Dr. Johnson-Booker. "The Mann's dedication to enriching the lives of those in my hometown neighborhood of West Philadelphia through educational and cultural experiences is aligned with my own personal mission to extend opportunities to our youth. I am looking forward to working with my fellow Board members to continue to make these opportunities reality for our community."
Dr. Johnson-Booker is from West Philadelphia and earned her doctorate in education from Nova Southeastern University in Florida and her bachelor's in sociology and psychology at Spelman College in Atlanta, Ga.
Rev. Dr. Lorina Marshall-Blake is president of the Independence Blue Cross Foundation, and the vice president of community affairs at Independence Blue Cross (Independence). In her role for the Foundation, she leads strategic, programmatic, and operational efforts to fulfill the Foundation's mission to lead sustainable solutions that improve the health and wellness of the community. While overseeing grantmaking work for the Foundation, Rev. Dr. Marshall-Blake steered the Foundation to be a collaborator, innovator, convener of diverse organizations, and thought leader in addressing emerging health needs in southeastern Pennsylvania. As the vice president of community affairs, Marshall-Blake develops and manages relationships with community partners to advance Independence's social mission efforts.
Rev. Dr. Marshall-Blake is also devoted to her church and community. She serves as an associate minister at the Vine Memorial Baptist Church in Philadelphia. In addition, she is affiliated with more than 30 professional and civic organizations, including the Anti-Defamation League and the United Negro College Fund, and was the 28th President of Alpha Kappa Alpha Sorority, Inc., Omega Omega Chapter.
"The Mann has always been such a special place for me and for the Philadelphia community, and I am so proud to represent this outstanding organization as a member of the Board," said Rev. Dr. Marshall-Blake. "I hope to continue to build our communities up through the Mann's programs and resources, and bring with me my perspectives on shaping the health of our future."
She has been recognized for her leadership and community service by diverse organizations such as the NAACP, the Girl Scouts of Eastern Pennsylvania, the Philadelphia Tribune, and the United Way of Greater Philadelphia and Southern New Jersey. She has also been recognized with numerous awards and was listed among the Philadelphia Business Journal's Power 100. 
Marshall-Blake serves on more than 25 nonprofit boards and committees of local, state, and national organizations. She also serves on Drexel University's College of Nursing and Health Professions Executive Advisory Council and Rutgers School of Nursing-Camden Dean's Leadership Circle.
Rev. Dr. Marshall-Blake is from Philadelphia and holds a master's in government administration from the University of Pennsylvania, a bachelor's degree in human services from Antioch College and an honorary doctorate of humanities from Albright College. She is an Honorary Fellow of the American Academy of Nursing and was appointed to the National Advisory Council on Nursing Education and Practice in the U.S. Department of Health and Human Services.
           
About the Mann
As one of the foremost outdoor music centers in the country, the Mann Center for the Performing Arts, a leading non-profit organization, has a historical legacy of artistic excellence as a world-class entertainment destination presenting premier artists, now in association with Live Nation Entertainment. Each summer season, renowned symphony orchestras, iconic rock stars and the latest touring artists in indie rock, hip hop, R&B and pop take the stage here. The Mann is the summer home of The Philadelphia Orchestra and has presented critically acclaimed performers in every decade since the 1930s. Located in the heart of Philadelphia's Fairmount Park, the Mann hosts more than 200,000 visitors annually. Signature concert experiences are surrounded by Philadelphia's stunning skyline and include seats beneath the Mann's acoustically acclaimed TD Pavilion; picnics, blankets and music under the stars on its Great Lawn or at the top of the hill at the Skyline Stage; and dining in Crescendo, the venue's spectacular tented restaurant.  In addition, the Mann's Education & Community Engagement Program reaches tens of thousands of young people annually through free programming and educational initiatives as well as its virtual Mann Music Room.  For more information, visit www.manncenter.org.
 
###