BalletX expands its horizons with two company favorites and a world premiere at the Mann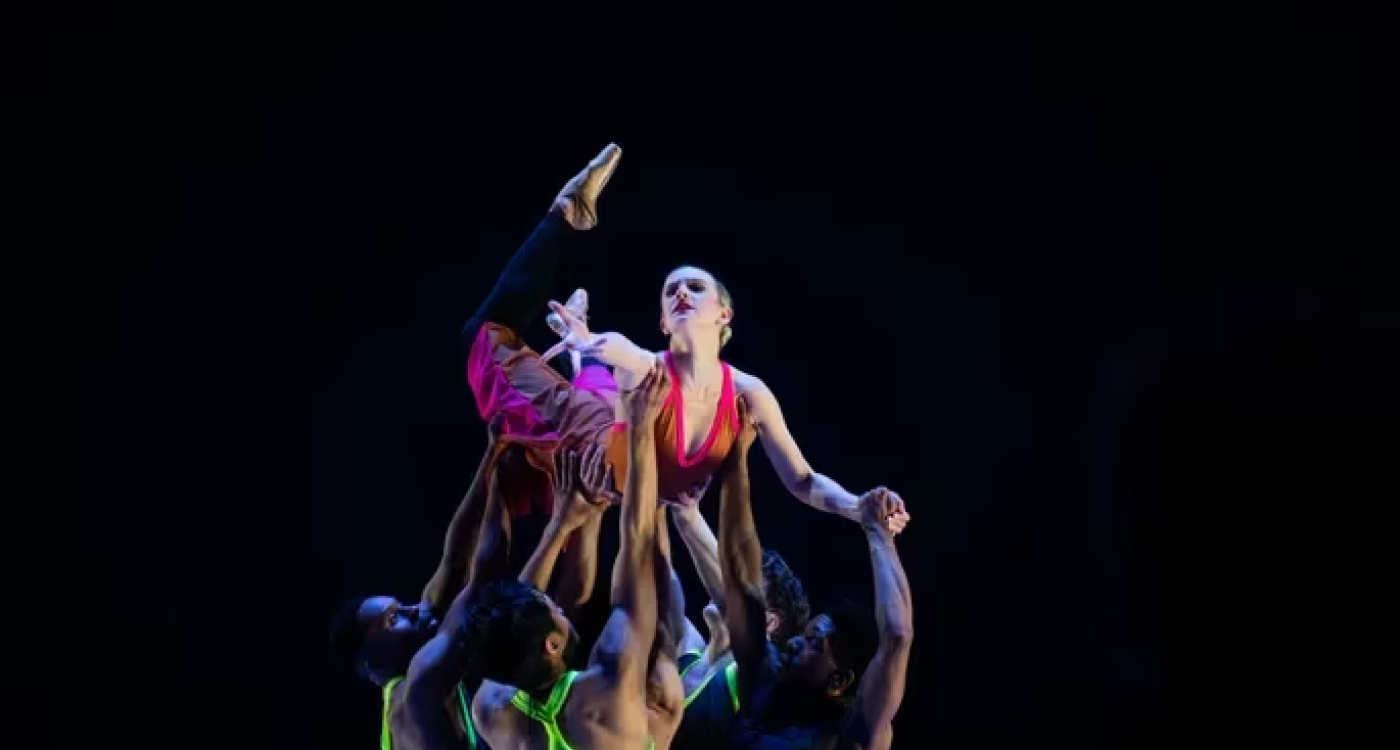 ARIAN MOLINA SOCA
This is the company's third year at its outdoor home and it chose three pieces that fit well in the expansive theater.
by Ellen Dunkel | The Philadelphia Inquirer
On a frigid but festive Thursday night, BalletX opened its spring season at the Mann Center for the Performing Arts.
This is the company's third year at its outdoor home and it's always a stark contrast going from the intimate 300-seat Wilma Theater (where it regularly sells out) to the Mann, which has 4,500 covered seats (and was largely full).
The company had a better footing on the much larger space than it did last year, when it presented works that were too detailed for the large theater.
This year's program mostly fixed those problems. It included three pieces that filled much of the space and simpler costumes and sets.
The most successful piece was Justin Peck's Become a Mountain, which he choreographed last year for the senior class at Juilliard and BalletX premiered in December. Performed in athleisure and sneakers, it is danced against an unadorned stage with simpler colors, clean lines, and large movements. Set to live music by Dan Deacon, it is an exhilarating journey ascending, crossing over, descending, and interacting. It has fast, dynamic steps and beautiful geometric patterns.
Trey McIntyre's Big Ones, which BalletX premiered in 2016, came out of the vault for this performance. It was featured on the October 2019 cover of Dance Magazine and, as a piece danced in very large, black bunny ears, is hard to forget.
Set to music by Amy Winehouse and the Vitamin String Quartet, it looks better in the bigger arena. With the dancers all in black pleather and backed by a series of what look like microphone stands, and performing in clean lines, it is very stylish — absurd ears and all. With the dancers all dressed alike (aside from pointe vs. flat shoes), it also appeared to be gender fluid from a distance, which it did not appear to be in the smaller Wilma space. With the perspective of years, it is also touching to hear the late Winehouse's voice against such clarity of movement.
BalletX usually prides itself on its new commissions, but in the two-day outing, it presented just one world premiere, Switching the Groove, by Amy Hall Garner. Set to music by Rodrigo y Gabriela, Francesco Tristano and Rami Khalifé, and Edoardo Pietrogrande and Francesco Tristano, it started out as a balletic piece and then moved into a more jazzy hip-hop style. The dancers, dressed in flowy dresses or neon-highlighted basketball jerseys and pants, looked very strong in this piece, filling the space with large movements and crisp footwork.
The intention, Hall Garner said in the program notes, was to mimic the dancers' day, moving from style to style. The jerseys vs. dresses were reminiscent of how young girls vs. boys are often introduced into ballet.
The dancers looked fantastic, but the lit backdrop, which changed colors as the piece went on, while cool, made it harder to see the details.
When audiences returned to theaters after the COVID-19 pandemic began to let up, the rules all seemed to change. People talked throughout performances, unwrapped candies, and checked phones far more than they had before.
This time the audience was quieter, but people treated it more like a festival than a theatrical performance. The audience kept moving so much that they frequently blocked views and distracted from the performance.