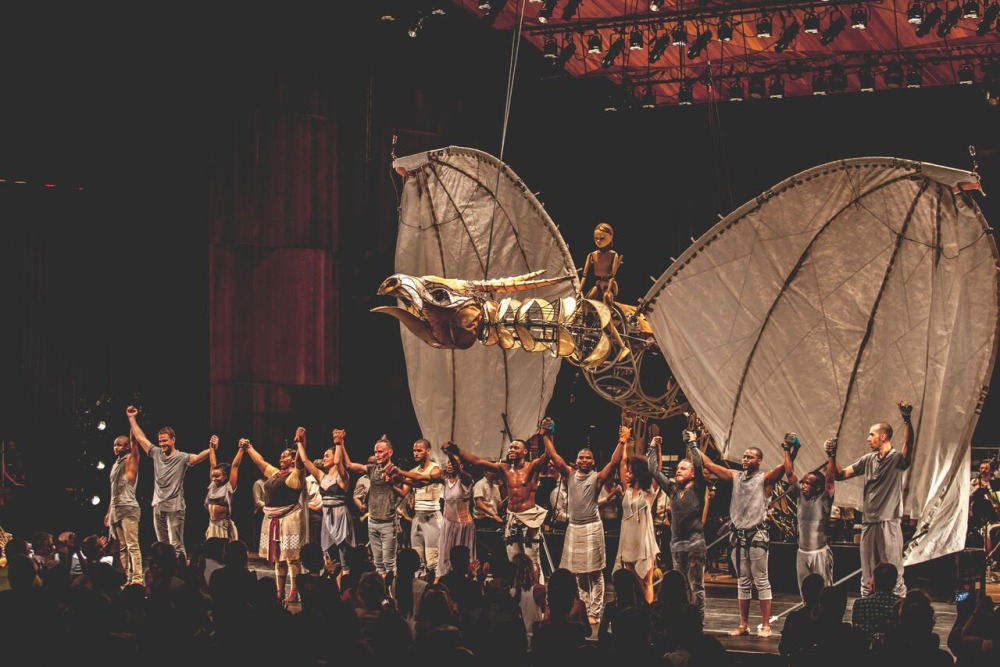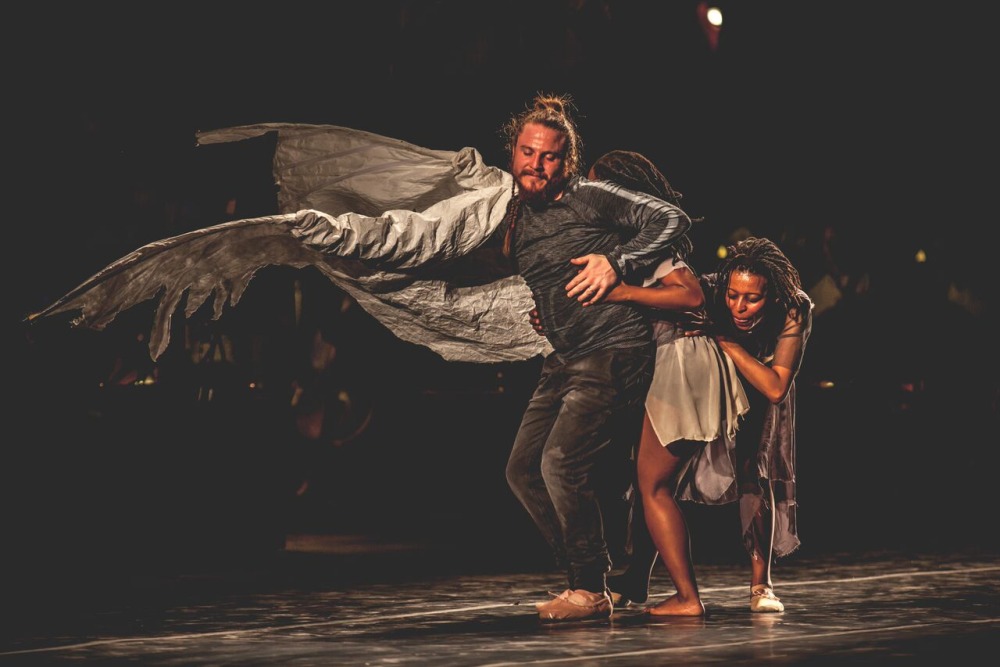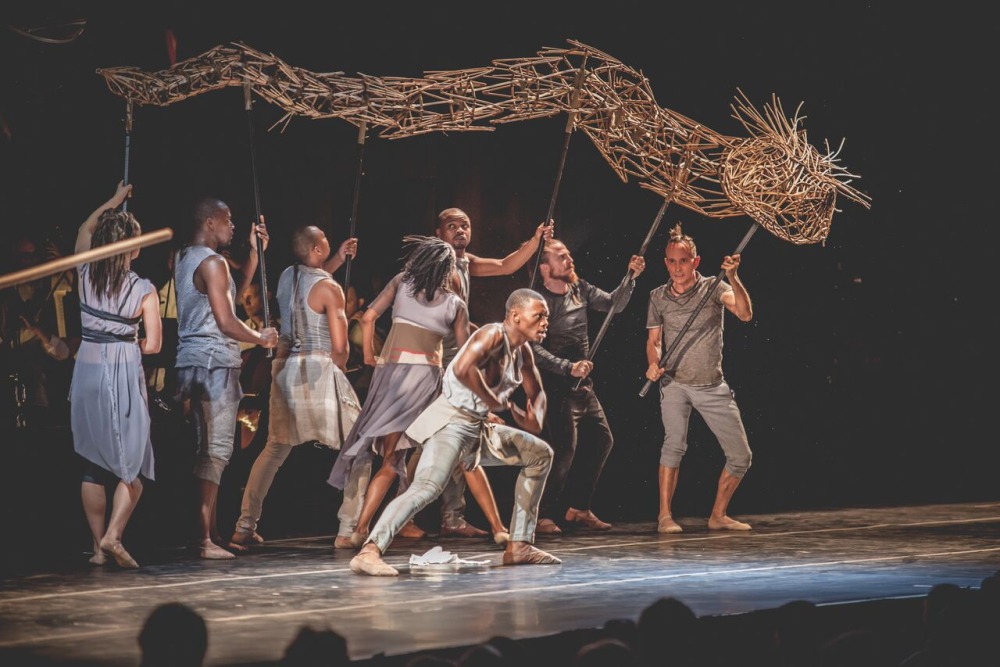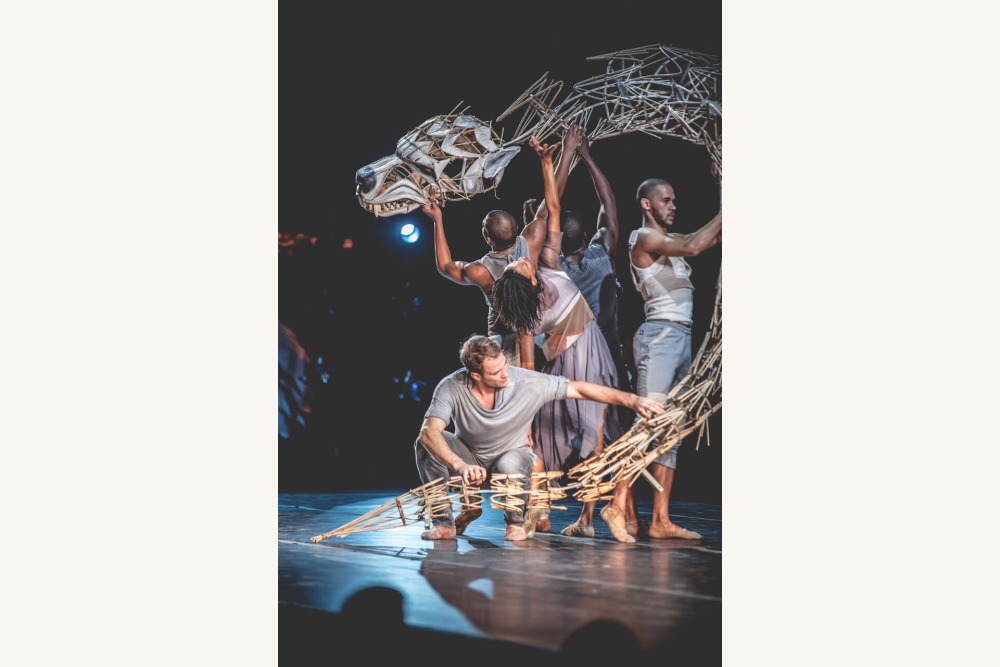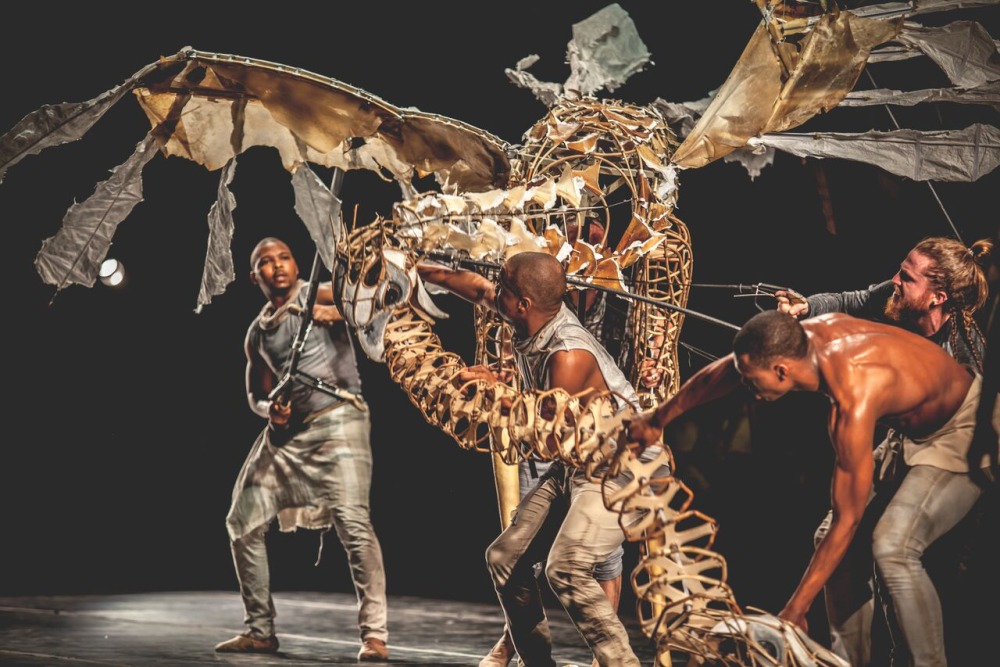 April - September 2016
Festival Overview
Firebird: Spirit Rising was The Mann Center's 2016 festival, a five-month celebration of the human spirit's boundless capacity for good, imagination, creativity, and freedom. Firebird: Spirit Rising expanded the creative boundaries of our educational programming and community engagement through an unprecedented series of artistic initiatives developed in partnership with leading academic, civic, and arts institutions. These works explored new innovations in the areas of art, theater, music, and dance.
Curated by Nolan Williams, Jr., CEO of NEWorks Productions and Festival Artistic Director for the Mann.

Past Events
Wednesday, July 20 | 8:00PM
Firebird: Reimagined
with The Philadelphia Orchestra, Ladysmith Black Mambazo, and Janni Younge of South Africa's Renowned Handspring Puppet Company
Cristian Măcelaru, conductor
The Mann presented the North American premiere of a multidisciplinary interpretation of Igor Stravinsky's orchestral score for the 1910 ballet. Firebird: Reimagined linked South African and Russian traditions and integrated music, literature, and the disciplines of dance, movement, and puppetry.
Creating a distinctly contemporary African and new interpretation of the Russian symphonic work, the Mann curated a unique program featuring The Philadelphia Orchestra, South Africa's multi-Grammy® Award-winning singing group Ladysmith Black Mambazo, and larger-than-life puppets inspired by the artistry of the Broadway sensation War Horse and created by Janni Younge of South Africa's renowned Handspring Puppet Company. The Philadelphia Orchestra's performance of the complete score for The Firebird was accompanied by a new interpretation of the original Ballets Russes staging with Younge's puppets and performed by expert puppeteers and dancers.
---
Friday, April 1, 2016 - Sunday, July 31, 2016
Stravinsky and Multiculturalism
Free Library of Philadelphia Parkway Central Library
The Edwin A. Fleisher Collection of Orchestral Music at the Free Library of Philadelphia Parkway Central Library curated a display that utilized Igor Stravinsky's Firebird as a case study and a catalyst for an examination of multiculturalism in the arts. Patrons explored the archetypal mythological roots of The Firebird in world cultures, discovered how art movements like primitivism and musical movements like jazz are demonstrative of cross-cultural interchange and synthesis, and, finally, observed the firebird's continued presence in popular culture.
---
Monday, May 16 - Sunday, August 14
Firebird at the Rosenbach
Rosenbach Museum & Library
When Stravinsky was commissioned by Diaghilev to write The Firebird in 1909, he was an unknown twenty-seven-year-old living in St. Petersburg. By the 1940s, he was one of the world's best-known composers and living in Los Angeles, where his circle of friends included the author and socialite Mercedes de Acosta. As one of the museum's Hands-On Tours, the Rosenbach featured Acosta's translation of Stravinsky's article "The Diaghilev I Knew," a handwritten excerpt of The Rite of Spring, and a tracing of Stravinsky's foot for the festival. In addition to her friendship with Stravinsky, Acosta had also been romantically involved with Tamara Karsavina, the legendary ballerina who originated the role of the Firebird, and the display included a pair of Karsavina's slippers gifted to Acosta. For more information on Hands-On Tours, visit www.rosenbach.org.
---
Monday, May 23, 2016 - Tuesday, May 24, 2016
Firebird at the Zoo
A Celebration of the music, dance and storytelling of South Africa!
The Philadelphia Zoo
The Mann brought programming to several thousand Philadelphia school students over two days at the Philadelphia Zoo for a day-long experience of art, music, scavenger hunts, and guided tours of the McNeil Avian Bird Center. Animals from Russia and South Africa were featured and showcased to students throughout the day. 
---
Monday, May 23
Firebird Urban Youth Suite feat. KIPP DuBois Collegiate Academy
Attendees experienced this "Firebird Fusion," a hip-hop suite performed with contemporary dance. This was a very special presentation commissioned by the Mann and directed by KIPP Music Director, Micael Schaller.
South African Folk Sing
Participants became acquainted with traditional folk songs of South Africa in an interactive sing-a-long with Suzette Ortiz.
Indaba!
Pronounced in-dah-bah (Indaba is a Zulu term that means gathering).
Griot Kim Graham presented this storytelling session of South African fables, stories, and poems.
Pop-up Performances

Attendees had the pleasure of enjoying the melodious sounds of roving ensembles of performers throughout the day!
---
Tuesday, May 24, 2016
Russian Piano Classics!
Celebrated pianists Lance Wiseman and Regina Shenderovich performed classical works of Russian composers who were contemporaries of Igor Stravinsky.
Eastern-Euro Folk Sing
Celebrated artist Jay Sand led this interactive sing-a-long of traditional folk songs of Russia.
Ballroom Dancing
Dancers from the Dancesport Studio performed visually stunning waltzes, along with other forms of traditional Russian dance.
Russian Fairy Tale Birds on Display
The enchanting paintings of Russian fairy tale birds by artists Tatiana Slavina and Halima Miha were featured.
Live Firebird Painting
Visual artist Anastasia Balabnova brought the Firebird to life on canvas.
These events were presented in partnership with the Philadelphia Zoo
---
Sunday, July 10, 2016 | 2:00 PM
Firebird: Spirit Rising Family Day
Northeast Regional Library
Firebird: Spirit Rising Family Day was an immersive experience of Russian culture, music, and cuisine showcased throughout the halls of the Northeast Regional Library, the second largest library in the Philadelphia Free Library System.
This free, family event was headlined with a musical concert by clarinetist Igor Begelman and bassoonist Larisa Gelman of Astral Artists. The day also featured presentations and performances curated in partnership with the Multicultural Arts Exchange, including:
Arts and crafts for ages 5 – 12
Russian food demonstrations by Michèle Haines, founder and Executive Chef of Spring Mill Café in Conshohocken, PA
Music performances by acclaimed pianist Regina Shenderovich and Lance Wiseman
Classic Russian ballroom dancing by Brilliant Dancesport Studio
Multicultural music performance for kids by Jay Rand
Displays of Russian art by Sergi Lukyanov and Kim Balaschak
In partnership with the Free Library of Philadelphia, Astral Artists, and the Multicultural Arts Exchange
---
Tuesday, June 14, 2016 | 10:00 AM
Sarafina!
Presented by the Mann Center for the Performing Arts
Written and composed by
Mbongeni Ngema
Original arrangements by Mbongeni Ngema and Hugh Masekela
Directed by Eric Ruffin
Music Directed by Mongezi Ntaka
Choreography by Jakari Sherman
Sarafina! is a musical inspired by the 1976 Soweto Student Uprising when more than 10,000 South African youth boldly defended their right to an education that affirmed their cultural identity and heritage. 40 years later, the inspiring story of these brave South Africans students and martyrs comes to life in this stellar Howard University Department of Theater Arts production, acclaimed by DC Metro Arts as a "stunning production" of "excellence on a grand scale" and "profound educational purpose".
Sarafina! was presented in partnership with NEWorks Productions, Howard University Department of Theatre Arts, and The Friends of Theatre and Dance at Howard University.
---
Saturday, June 18, 2016 | 10:00 AM - 5:00 PM
Macy's Family FunDay! - Juneteenth: A Celebration of Freedom!
At this event, the Mann joined AAMP in a celebration and appreciation of the Black experience. Attendees enjoyed a family, fun-filled day of arts, crafts, and entertainment as they came together to learn, strengthen bonds, and re-energize the dream to achieve! Children ages 5-11 were especially welcomed.
---
Tuesday, June 21 • 4 - 5PM
Firebird: Fusion
Students from the KIPP DuBois Collegiate Academy will present new music inspired by Stravinsky's Firebird Suite along with Russian and South African folk songs--a real musical fusion. Directed by Michael Schaller
Walnut Street West Library
The Walnut Street West Library presented an hour of Russian and South African folk music that was performed by the music students of KIPP DuBois Collegiate Academy.
---
Mercedes de Acosta: Revolutionary Socialite 
Mercedes de Acosta is best remembered for her relationships with Isadora Duncan, Greta Garbo, and Marlene Dietrich. However, she was also an accomplished writer and an influential figure in the café society of the 1930s. She influenced and inspired artists and writers who challenged both sexual and artistic norms, such as Igor Stravinsky, Cecil Beaton, Sarah Bernhardt, and Noel Coward. A tour explored some of the written correspondence between de Acosta and the revolutionary artists of her day.
About Hands-On Tours
Created especially for visitors who seek an in-depth and focused look at their collection, Hands-On Tours allows unparalleled access to rare and important items that are not usually on view to the public. Depending on the tour, attendees have the chance to handle historic items, be it by turning the page of a rare book, testing the weight of a delicate teacup, or reading from a manuscript.
Firebird: Reimagined was supported by:
The Pew Center for Arts & Heritage
The Presser Foundation
Creative Philadelphia
---
Firebird: Spirit Rising was presented in partnership with:
African American Museum in Philadelphia
Astral
Free Library of Philadelphia
GLA Charter School
History Making Productions
Howard University
Kipp DuBois Collegiate Academy
Moore College of Art & Design
Multicultural Arts Exchange
NEWorks Productions
Philadelphia Zoo
---
Firebird: Spirit Rising was sponsored by:
Independence Blue Cross
Pitcairn
Merck
USLI
Wells Fargo

Corporate Sponsors of the Mann
Joseph. C. Scott Foundation
The Lenfest Foundation
MKM Foundation
Kelly and Rick Biesecker
Pia and Jimmy Zankel
Christian R. and Mary F. Lindback Foundation
Dolfinger-McMahon Foundation