Festival Overview
American composer Leonard Bernstein, the creative force behind iconic works like West Side Story and On the Town, would have celebrated his 100th birthday in 2018. To mark his centennial birthday, festivities spanning six continents are being mounted from August 25, 2017, Bernstein's 99th birthday, through December 2018.
The Mann Center for the Performing Arts is thrilled to join in this international celebration with its fifth community festival, Brilliantly Bernstein. Beyond Bernstein's stellar career as a composer and conductor, this 20th century musical Renaissance man was a great educator, activist, and humanitarian. The Mann's six-month festival will explore this legacy through a series of arts initiatives, signature performances, and educational projects.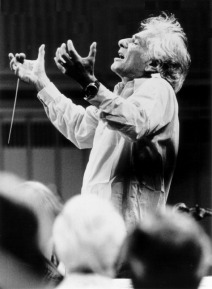 Upcoming Events*
Bernstein: Broadway & Beyond
2018
The Art of Songwriting
February - November 2018
In the spirit of Bernstein, we will present a two-phase residency for young creatives-led by inspiring teaching artists-to compose new works that explore our Nation's history and its ongoing struggle to become a more perfect union. These works will employ elements of the libretto from Bernstein's musical 1600 Pennsylvania Avenue as a foundation and inspiration.
Phase 1 will run from February through May 2018 at KIPP DuBois Collegiate Academy, led by Darin Atwater, the Mann's commissioned composer for A Tribute to Leonard Bernstein. Darin and select KIPP faculty will work in tandem: (1) to guide scholar artists in studying the content and structure of the 1600-Penn libretto, and (2) to explore principles of song composition and instrumental arranging as tools that give poetic voice and expression to their thoughts about social justice, informed by their personal experiences. Building upon these same objectives, Phase 2 of this project will run for eight weeks during the fall term of 2018. In this phase, The Art of Songwriting residency will be expanded to include scholar artists at KIPP DuBois Collegiate Academy and String Theory Charter School, led by teaching-artists Greg Corbin and Jawanza Kobie. At the conclusion of this second project phase, young creatives will spend two weeks in a music studio to record their compositions. Their works will be shared online via the Mann's social media platforms.
Klezmer Meets Jazz
Connecting Arts-N-Schools Series
April 30 - May 4, 2018
The Mann is delighted to announce that we are bringing our Connecting Arts-N-Schools (CANS) initiative to our festival partner schools once again with our 2018 presentation of Klezmer Meets Jazz. To date, CANS has reached more than 65,000 students citywide through a series of multidisciplinary programs in music, dance, and theatre. Klezmer Meets Jazz will explore the side-by-side development of two improvising music and dance traditions: Jazz & traditional Jewish Klezmer.
The Philadelphia Community Mass
August 11, 2018, 3:00 PM
Monumental Baptist Church
Inspired by Bernstein's MASS, the Mann will draw together a collective of Philadelphia-based composers, musicians and directors from Philadelphia's rich African American church community to create a community Mass that explores the relevance of faith in our times. Featuring the Bernstein-inspired compositions of Dr. Rollo Dilworth, Ruth Naomi Floyd, Jay Fluellen and Evelyn Simpson Curenton, the Philadelphia Community Mass will be presented as a full concert at the Monumental Baptist Church. The concert will be anchored by the Philadelphia Community Mass Choir, a collective of singers representing diverse communities in and around Philadelphia.  The performance will be punctuated by spoken libretto excerpts from Bernstein's MASS delivered by leaders from Philadelphia's civic and religious communities.
 
This is a free event. Seating is general admission and is on a first-come, first-served basis. No tickets will be issued, however, advance registration is suggested.

Community Mass Composers
Jay Fluellen
Evelyn Simpson Curenton
Ruth Naomi Floyd
Dr. Rollo Dillworth
West Side / South Side: A Photo Exhibition
Summer 2018
While Bernstein's West Side Story was inspired by the timeless Shakespearean work Romeo and Juliet, it broke new artistic ground with Bernstein's decision to explore a rivalry between two teenage street gangs of different ethnic backgrounds, one Puerto Rican, the other White, in his musical. Premiered on Broadway in 1957, Bernstein challenged us to wrestle with issues of community integration. He also shined a spotlight on the social conditions that often distinguish one neighborhood from another.
60 years later, the West Side / South Side exhibition celebrates diversity in America, drawing public attention to both its successes and challenges. Featuring images produced by student photographers from University of the Arts in Philadelphia, PA, American University and the University of the District of Columbia in Washington, D.C.; and the Art Institute of Atlanta and Clark-Atlanta University in Atlanta, GA, this collection—presented in partnership with Fulton County Arts and Culture and NEWorks Productions—will be featured online as a digital exhibition and mounted in  gallery spaces in each city between May and September of 2018. 
Catherine Reynolds Foundation Gallery
NYU-Washington, D.C.
May 2-30
Beauchamp Carr Gallery
Woodruff Arts Center
June 9-30
2nd Floor West Gallery
The Free Library of Philadelphia, Parkway Branch
July 11-August 30
Word on the Street: Panel Discussion
Fall 2018
In the spirit of West Side Story's timely message, Philadelphia-based, community-focused leaders will come together in an open forum setting to discuss youth violence with students grades 9 - 12.  In this 90-minute panel, violence prevention advocates, educators, students, and community leaders will address topics of youth violence in Philadelphia and discuss solutions for change.
*Event Schedule Subject to Change
Brilliantly Bernstein: Beyond the Baton is curated in partnership with Nolan Williams, Jr., the Mann's Festival Artistic Director and CEO of NEWorks Productions, Collaborative Artistic Partner
This project is supported in part by an award from the National Endowment for the Arts. To find out more about how the National Endowment for the Arts grants impact individuals and communities, visit www.arts.gov.
Our festival program would not be possible without the support of our Education & Community Engagement sponsors. 
Partners throughout The Art of Songwriting project include: Nolan Williams, Jr., Festival Artistic Director and CEO of NEWorks Productions, Festival Collaborative Partner, Darin Atwater, Composer, Greg Corbin, Teaching Artist, Jawanza Kobie, Teaching Artist, KIPP DuBois Collegiate Academy, String Theory Charter School.
Connecting Arts-N-Schools is presented in partnership with Klezmer Specialist Dan Blacksberg as well as composer and Kimmel Center Jazz Resident, Jawanza Kobie.
The Philadelphia Community Mass is curated by NEWorks Productions and presented in partnership with Monumental Baptist Church. 
West Side / South Side: A Photo Exhibition is curated by NEWorks Productions and co-presented by the Mann, NEWorks Productions, and Fulton County Arts and Culture.